Blessingsonthenet Features More Than 600 Festival, Fairs, Fast, State Festivals, Regional Festivals, Festival Recipes, Temple Festival,Festival Gallery (Audio, Video,Photo Gallery) of India.
Prawn Malai Curr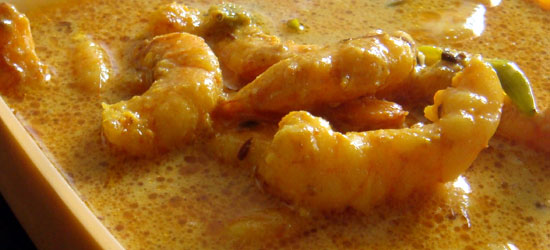 Prawn Malai Curry is an authentic Bengali style mouth watering jumbo prawn curry cooked in coconut milk.
Bengal (India) is famous for it's spicy, mouth-watering and aromatic food. Bengali food consist of a variety of sweet dishes, rice and fish delicacies. A Bengali meal without fish is incomplete. You'll find a lot of fish variety in bengali seafood dishes that includes fishes like carp, catfish, prawns and shrimp. Prawn malai curry is one of the high demand dish in bengali homes.
Method
Method of making Prawn Malai Curry :
1.Wash the prawn and take out the black thread on the back.
2. Mix the prawn with salt and turmeric.
3. Fry the prawn till golden brown and set aside.
4. Put bay leaf to the oil, add onion paste, tomato puree, tumeric, salt, garam masala powder and stir till the oil separates.
5. Add the prawn to the mix.
6. Pour coconut milk, a cup of water and bring it to a boil.
7. When the gravy thickens, put some ghee and serve hot with rice.
Ingredients
Ingredients required to make prawn Malai Curry :
Prawn - 10 - 12
Bay Leaves - 2
Onion Paste - 2 Tsp
Ginger Garlic Paste - 2 Tsp
Tomato Puree - 2 Tsp
Coconut Milk - 1/2 Cup
Ghee - 1/2tsp
Turmeric - 1/2Tsp
Garam Masala Powder - 1/2Tsp
Salt - To Taste
Chilli - To Taste