Blessingsonthenet Features More Than 600 Festival, Fairs, Fast, State Festivals, Regional Festivals, Festival Recipes, Temple Festival,Festival Gallery (Audio, Video,Photo Gallery) of India.
Rabdi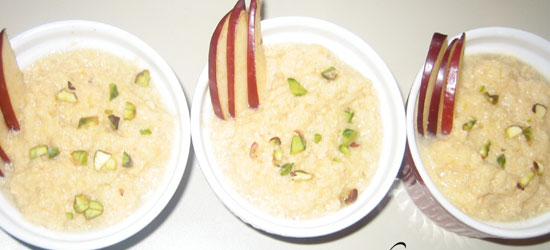 Rabdi, a milk based sweet is one of the highly acclaimed desserts from the North. This mouth-watering relish is prepared with mainly two ingredients - milk and sugar.

Sweet Rabri is a sweet, condensed milk based dish made by boiling the milk on low heat for a long time until it becomes dense and changes its color to pinkish. Sugar, spices and nuts are added to it to give it flavor. It is chilled and served as dessert. Rabri is the main ingredient in several desserts, such as rasaballi, chhena kheeri, and kheersagar.
It is also called shahi tukrey.
Method
Method of making Rabri or Rabdi :

1. Bring the milk to the boil then cook slowly on a low heat for at least 2 hours.
2. Stir frequently and let the cream thicken at the edge of the pan.
3. Add the sugar and stir until the milk is less than quarter the original amount.
4. Scrape the cream formed on the sides back into the milk.
5. When ready, stir in the rosewater and pour into a glass dish.
6. Garnish with chopped almonds, pistachios and ground cardamoms.
7. Rabri may be served either hot or chilled.
Ingredients
Ingredients required to make Rabri :
Milk : 4 cups
Sugar : 2 tbsps.
Rosewater : 1 tsp.
Cardamoms : 1 tsp.
Almonds : Few
Pistachios : Few
4 drops of kewra essence