Blessingsonthenet Features More Than 600 Festival, Fairs, Fast, State Festivals, Regional Festivals, Festival Recipes, Temple Festival,Festival Gallery (Audio, Video,Photo Gallery) of India.
Ras Malai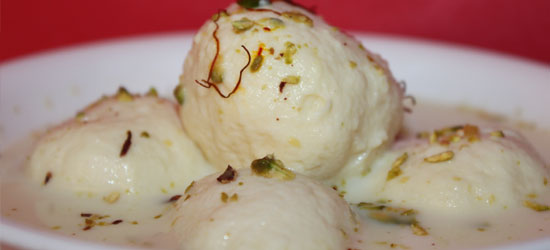 Ras-malai is a Bengali delicacy, now popular in most parts of India. A perfect finale for any kind of dinner, Ras-malai is smooth and satisfying. Ras-malai is made in three steps. First is the preparation of Ras-gullas (malai balls or patties) followed by the preparation of Ras (flavored milk). The final step is the presentation.
Ras Malai is the lip-smaking dessert that can be prepared within no time.
Method
Method of making Ras Malai :
First keep the 3 cups of milk for ras to boil until it remains 1 3/4 cup.
Bring 4 cups of milk to boil. Now to curdle the milk add lemon juice to it stirring continuously.
Then drain it in a thin muslin cloth or handkerchief.
Hold it covered with cloth in the running water. Drain the excess water by pressing the cloth there must not be water remaining.
In a pressure cooker take 3 cups of water and 1 cup of sugar.
Take the channa out of the cloth in a dish, mash it and make around 15 small size of balls out of it
Toss that balls in the pressure cooker and bring two whistles.
In the mean time see the milk for ras may be ready.
Add the sugar for ras to it and add cardamom, pista, almond and saffron to it. Let it cool aside
As the pressure cooker is warm now open it take out the balls of channa with the spoon in a dish and let the water drain by pressing it little and let it cook.
When the milk is cool add channa balls to it.
Refrigerate it.
And it is ready to serve.
Ingredients
Ingredients required to make Ras Malai :
4 Measuring cup milk for channa (2% milk)
3 measuring cup milk for Ras
4 - 4 1/2 tbsp. sugar for Ras
1 cup sugar
3 cups of water
saffron, cardamom, pista, almonds
lemon juice