Blessingsonthenet Features More Than 600 Festival, Fairs, Fast, State Festivals, Regional Festivals, Festival Recipes, Temple Festival,Festival Gallery (Audio, Video,Photo Gallery) of India.
Rasgulla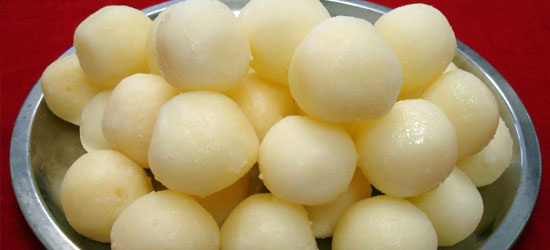 Whether it is in Bengal or in Rajasthan, rasogollas are a much-preferred sweet dish.
Rasgulla or Rasogullas - A very popular Bengali sweet, which is soft, Juicy & Spongy made from milk and the most popular sweet delicacy in Kolkata as well as rest of India and the world. Rasogullas is made from balls of chhena (an Indian cottage cheese) and semolina dough, cooked in sugar syrup.
Rasgulla owes its origin to the town of Puri in coastal Orissa. In this town, the dish has been the traditional offering to the Hindu goddess, Lakshmi, the consort of the Puri temple's main deity, Jagannath. Puri Temple age-old custom inside the temple is to offer rasgullas to Lakshmi in order to appease her wrath for being ignored, immediately following the commencement of the annual chariot festival (Rath Yatra).
And until today, rasgulla is the only sweet offered to Mahalaxmi [Lakshmi], Jagannath's consort, to appease her when the deities return home. Although traditionally sold inside clay pots in Orissa and sometimes in Bengal, sponge rasgullas in cans have become popular nowadays.
Method
Method of making Rasgulla :

Heat milk in a pan and bring it to boil. Remove from heat.
Add citric acid or lemon juice.
Stir slowly and gently until white curd forms on the surface and separates from whey.
On straining this milk, the curd that is obtained is called "chenna". Wash chenna well under cold running water and twist the cloth that was used for straining to extract water.
Knead chenna to make a smooth dough. Add flour and knead again.
Make small balls of equal size (6-7) of the dough and keep aside.
Next make sugar syrup. Mix sugar and water in a saucepan and bring it to boil.
Add chenna balls to the syrup and cook for 15 minutes with lid partially covered. Chenna dumplings will puff up.
On cooling, add rose essence.
Refrigerate and serve chilled.
Ingredients
Ingredients required to make Rasgulla :
Milk - 1/2 litre
Refined flour (maida) - 2 tsp
Citric acid dissolved in water or lemon juice - 1/4 tsp dissolved in 1/2 cup water or lemon juice 2-3 tbsp.
Sugar- 1 cup
Water- 1 cup
Rose essence or cardamom powder - 2-3 drops or 1/4 tsp