Blessingsonthenet Features More Than 600 Festival, Fairs, Fast, State Festivals, Regional Festivals, Festival Recipes, Temple Festival,Festival Gallery (Audio, Video,Photo Gallery) of India.
Adhirasam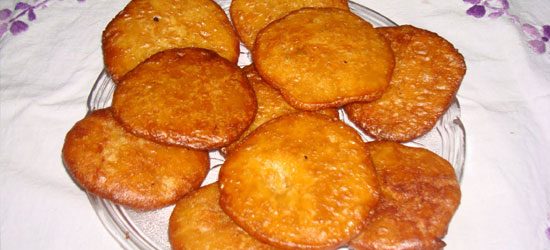 Adhirasam is a traditional south Indian sweet which is made in almost every house in Tamilnadu during diwali. A sweet snack made with rice flour and jaggery. It is prepared during religious functions and for festivals. Adhirasam is a type of South Indian sweet from Tamil cuisine. The doughnut like pastry has a long history of popularity in Tamil civilization. They are similar in shape to vadai, but are not savoury and are eaten as a dessert. Adhirasam is a popular as an offering to the gods during puja prayers, both at home and in temples in Tamil Nadu. According to inscriptions from Krishnadevaraya's time, the sweet was made from rice flour, jaggery, butter and pepper. At the annual festival at the Panchavarnesvar Temple in Nallur (located near Kumbakonam, Tamil Nadu), an offering of 6000 Adhirasams along with 6000 vadas is made to the Gods; the entire lot is cooked in the temple kitchen between sunrise and 11pm, for the prayers that take place at midnight .
Method
Method:
Soak the rice for 30mins. After 30 mins, rinse it and drain the water water. Spread the rice in a towel for about 10 mins to absorb the excess water content of the rice. After 10 mins grind the rice in a mixer to a very nice powder
Add jaggery in a pan with 1/2 cup of water and when it dissolves it water take it and strain the jaggery water to avoid sand
Again boil the jaggery water and keep stirring it until the jaggery comes to stone consistency. This means when we take a drop of jaggery juice and pour it in water, it should not dissolve rather we should be able to make a ball out of it.
Now remove the jaggery from flame and add to the wet rice powder and mix it well along with cardamom powder. Now the adhirasam mixture is ready for preparation.
(Note : You can also add one ladle of fresh curd. By adding this you will get a soft Adhirasam)
Keep this adhirasam mixture aside for at least one day Deep fry the adhirasam till it becomes golden color. Don't put more than two adhirasam in the oil
Repeat the above steps for the rest of mixture
The Delicious Adhirasam is ready for Neivedhyam for Deepawali/ Thirukarthigai/Karthigai deepam as well as for serving.
Note : If Adhirasam is getting split while frying, then its an indication that you have added more jaggery. Add one or two more table spoon of rice flour and mix it and try again.
Ingredients
Ingridents required for making Adhirasam :
Raw Rice - 200 gm
Jaggery - 200 gm
Cardamom, powdered - 3 gm
Khus-khus - a pinch
Sesame seeds - a pinch
Cooking Oil for deep frying