Blessingsonthenet Features More Than 600 Festival, Fairs, Fast, State Festivals, Regional Festivals, Festival Recipes, Temple Festival,Festival Gallery (Audio, Video,Photo Gallery) of India.
Uppu Seedai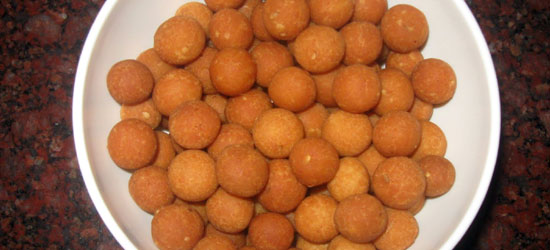 This dish is made especially for the Gokulashtami festival.Gokulashtami or Janmashtami is the Hindu festive celebrated in a grand manner all over India. This day normally falls on the eighth day after Aavani Avittam ie, ashtami thidi of Tamil month Aavani. This day marks the birth of Lord Krishna.
In the evening of this day,people decorate the entrance of their homes with kolams and drawing the baby Krishna's feet imprints that mark the entrance of the Lord to their houses.
Lord Krishna is said to be fond of butter and sweets and this day they prepare all sweets that are Lord Krishna's favourite.
This is pretty popular snack in South India.
The word "Uppu" in tamil translates to "Salt "Salt" to depict the savory version of this dish since a sweet version exists.
Method
Ingredients required to make Uppu Seedai :
Soak the rice for at least 2 hours and drain the water,spread it in a clean cloth or news paper to absorb the excess water.
Grind it to a fine powder in a mixer .
Sieve the flour(you can add the remaining coarse rice to the next batch grinding).
Heat a pan and fry the flour in medium flame until u see steam coming out from the flour. Just for a minute to say approximately.
Fry the urad dal flour until nice aroma wafts.( You can fry the urad dal and powder,sieve it too. I used ready made store bought urad dal flour).
Give a fry for coconut gratings too. Just fry till excess moisture is gone.
Now sieve again both the roasted flours together.
Mix rice flour,urad flour,coconut gratings,sesame seeds,ghee,asafoetida and salt well.Add water and make it to a soft pliable dough.
Take small pinch and make into ball,try not to make it perfect round or not to give pressure while rolling. Do it gently.
Repeat until you finish all the dough and arrange in a news paper or dry clean cloth.Let it be for 15 minutes.
Heat oil in kadai and add the seedais. For safety stand away from the stove for the first batch.Divide and cook in 3-4 batches.Cook in medium flame. stir in between to ensure even cooking.
Cook until the shh...sounds ceases.Drain in paper towel.Store in airt tight container after cooled down. The flavour is in its best when eaten from the next day.
Ingredients
Ingredients required to make Uppu Seedai : Salt Receipie/
Raw rice(I used sona masoori) 1 cup
Urad dal flour 2 tblsp
Ghee/butter 4 tblsp
Sesame seeds 2 tsp
Asafoetida 1/4 tsp
Salt & water as needed
Oil For deep frying
Grated coconut 3 tblsp