Blessingsonthenet Features More Than 600 Festival, Fairs, Fast, State Festivals, Regional Festivals, Festival Recipes, Temple Festival,Festival Gallery (Audio, Video,Photo Gallery) of India.
Ellu Urundai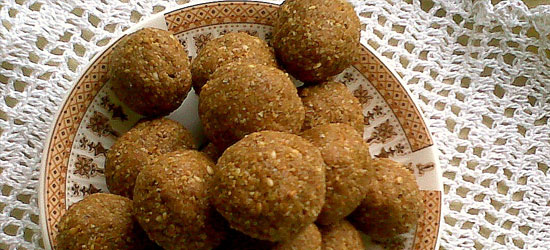 Ellurundai / ellu urundai / Til ke Laddoo Sesame seed sweet ball (Winter laddu). It is a suitable dessert that warms up our body during winter season.

Sesame ladoo / Ell urundai is a kind of primordial Indian sweet . It is believed that , the people who extract oil (nallennai in tamil) from sesame seeds could have invented this amazing sweet. Actually they mix palm jaggery with the left over crushed sesame seeds after getting the oil
Method
Method of making Ellu Urundai :

• Roast the sesame seeds till golden brown.
• Roast the grated coconut.
• Roast the groundnuts. Coarsely powder the roasted ingredients.
• Melt jaggery in a heavy bottomed pan with some water. Add 1 tbsp of ghee and stir.
• On boiling, add the roasted ingredients, cardamom powder and stir to a consistency that you can make balls out of it.
• Remove from heat.
• Grease your hands with a little ghee and make laddoos when the mixture is of bearable warmth.
• Ellu Urundai is ready. Can be stored in an air-tight container for few days.
Ingredients
Ingredients required to make Ellu Urundai :
•1 Cup Black Sesame seeds
•1 Cup Jaggery
•1/2 Cup Grated dry coconut
•1/2 Cup Peanuts
•1 tsp Cardamom Powder
•Ghee