Blessingsonthenet Features More Than 600 Festival, Fairs, Fast, State Festivals, Regional Festivals, Festival Recipes, Temple Festival,Festival Gallery (Audio, Video,Photo Gallery) of India.
Sevaiyan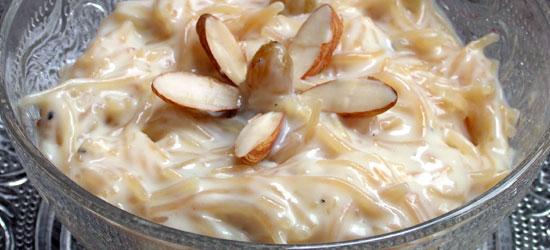 Sevaiyan is a special dish, with its smooth, creamy, thick texture. A firm favourite at festivals and auspicious occasions, especially in northern and western India, it has also become inextricably linked with Ramzan Id, or Id-ul-Fitr.
Sevaiyan, or sheerkurma, as it is otherwise called, is a highlight of the Ramzan Id feast, and people queuing up for it at sweet stalls is a common sight on that day.
Method
Method of making Seviyan :
Break the vermicelli into small pieces. Heat ghee in a cooking pan and fry the vermicelli in it till it evenly becomes light brown. Ensure that it does not get too brown.

Heat the milk, stirring continuously so that the cream does not come to the surface. When the milk boils, reduce heat to a minimum and add the condensed milk and vermicelli. Stir well, cover the pan, and leave to cook.

After three minutes, add the cardamom powder, cashewnuts, almonds and raisins. Stir well and take off the flame. Leave it aside for a few minutes so that it thickens. Serve hot.
* For non-festive occasions, an alternative is to serve it slightly chilled.
Ingredients
Ingredients required to make Sevian :
Vermicelli - 50 gm
· Condensed milk - 250 gm
· Full cream milk - 500 ml
· Sugar - 100 gm
· Ghee - 20 ml
· Cardamom - 2 pods, powdered
· Raisins - 25 gm
· Cashewnuts (broken) - 20 gm
· Almonds (sliced) - 20 gm