Blessingsonthenet Features More Than 600 Festival, Fairs, Fast, State Festivals, Regional Festivals, Festival Recipes, Temple Festival,Festival Gallery (Audio, Video,Photo Gallery) of India.
Shankarpali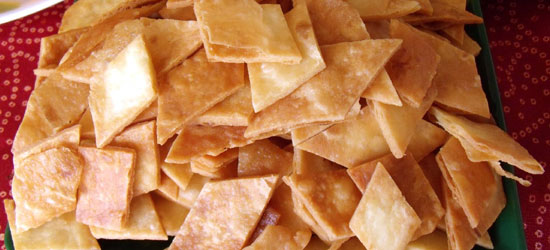 Shankarpali is a snack popular in Maharashtra, India. It is traditionally enjoyed as a treat on the Diwali holiday.

Shankarpali is rich in carbohydrates, making it an instant source of energy.also called Shakkarpare,it is a melt-in-the-mouth sweet, made especially on festivals in India. On the occasion of Diwali, people in northern parts of the country enjoy making shakkar pare, an easy to make recipe, which doesn't require too many ingredients. Moreover, you can relish on the sweet for many days, because it has a long shelf life.
Method
Method of for preparing Shankarpali.
Mix maida, baking powder, sugar, til and cardamom powder. Knead into a stiff dough, adding water as necessary. Make four to five lemon-sized balls.

Roll each dough-ball into a thin disc as large as possible. Cut the disc from one end to another into strips about 3 cms wide, using a sharp knife dipped frequently in water. Make a second set of cuts similarly from one end of the disc to another, but at 45° to the first set, so as to form diamond-shaped pieces.

Heat oil and deep fry the pieces in batches. Drain and store in airtight jar.
Ingredients
Ingredients for preparing Shankarpali.

1 cup refined flour (maida)
1 cup sugar, ground
2 tbsps white sesame seeds (til)
1/2 tbsp cardamom powder
A pinch of soda bicarb
A few drops of rose water
oil for deep frying