Blessingsonthenet Features More Than 600 Festival, Fairs, Fast, State Festivals, Regional Festivals, Festival Recipes, Temple Festival,Festival Gallery (Audio, Video,Photo Gallery) of India.
Sheera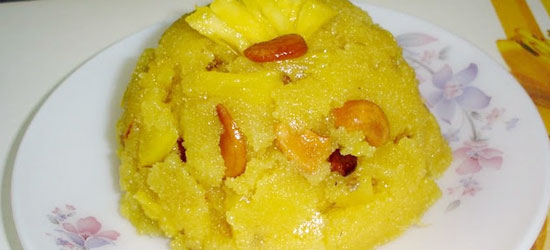 In Maharashtra and Goa, it is called sheera. Travel southwards, and it goes by the name of kesari. Its versatility makes it a first option for a wide range of occasions.
It is a perfect sweet-cum-snack to make when faced with sudden guests and an empty larder. Twenty minutes in the kitchen can churn out enough of the dish to serve up to ten people. So it is also a common evening snack at home on holidays.
Kesri is also served on special occasions like Marriage specially in Tamil Nadu and also offered as a prasad toHindu god & goddess in temole and at home.
Method
Method of making Sheera - Sweet Receipe .
Roast the cashews in a little ghee and keep aside.
Lightly roast the semolina in a pan till it just begins to brown. Add the ghee and mix well.
Heat half a litre of water. When it begins to steam, add half of it to the semolina. Stir well, and allow the semolina to cook. Add the rest of the water a little at a time, taking care to ensure that you don't add more than what the semolina can absorb. Keep stirring to avoid lumps being formed.
Once the semolina has been cooked and all the water absorbed, add the sugar and colouring, and mix well. Add the cardamom powder and the vanilla essence.
When the ghee gets released and the sheera comes off the sides of the pan without sticking to it when stirred, add the fried cashews and remove from the flame. Other dry fruits like almonds (sliced) and raisins can also be added. Allow it to cool to medium-hot and serve.
You could also add some freshly grated coconuts or a tablespoon of milk while making the dish.
Ingredients
Ingredients for preparing Sheera.

· Semolina (rava) - 200 gm
· Sugar - 150 gm, or as needed
· Ghee - 150 gm
· Cashewnuts - 15 gm
· Cardamom powder - a pinch
· Saffron powder or orange food colouring
· Vanilla essence (optional)