Blessingsonthenet Features More Than 600 Festival, Fairs, Fast, State Festivals, Regional Festivals, Festival Recipes, Temple Festival,Festival Gallery (Audio, Video,Photo Gallery) of India.
Sheerkhurma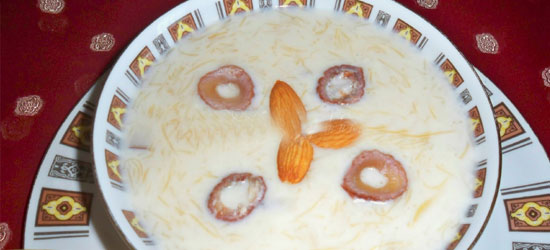 A special sweet which is a "must" and is prepared in every Muslim house is SHIRKHURMA.
Sheer means sweetened milk and khurma is made from dried dates. It is Eid special dessert. This special dish is served on the morning of Eid day in the family after the Eid prayer as breakfast, and throughout the day to all the visiting guests.
Method
Method of making Sheerkhurma : Sweer Recipe
Heat the saffron in a small metal bowl on very low fire, shaking the bowl all the time so that the saffron threads do not turn. When cooled, crush it with fingertips and keep aside.
Heat ghee in a heavy-bottomed pan, lower the fire, put in the vermicelli and fry to a light golden colour. Pour ½ cup water.
In a few minutes the vermicelli would become soft. Pour milk and cook for 8 minutes.
Add sugar and simmer for another few minutes till a little thick.
Cut blanched almonds and Pistachios into fine slivers. Add half of these along with Charoli, Cardamom powder, Kishmis, crushed Saffron and rose essence.
Either rose essence or saffron should be used to keep the flavour pure.
Pour this ready Shirkhurma in a big glass bowl and sprinkle the remaining slivers of almond and pistachios.
Garnish with silver varg and serve hot or cold.
Ingredients
Ingredients for preparing Shirkhurma.
120 gms vermicelli (sivayya)
4 cups milk
1/4 tsp saffron
5 tbs sugar or more if required.
1/2 tsp cardamom powder
1 tbs. charoli wiped with cloth
10 almonds blanched
15 Pistachios blanched
2 tbs kishmis cleaned
8 to 10 drops of rose essence.
1 ¼ tbs good ghee.
2 silver varks (leaves).