Blessingsonthenet Features More Than 600 Festival, Fairs, Fast, State Festivals, Regional Festivals, Festival Recipes, Temple Festival,Festival Gallery (Audio, Video,Photo Gallery) of India.
Soan Papdi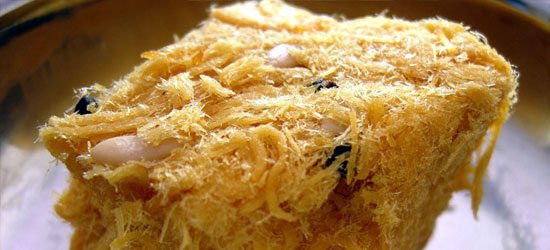 Soan Papdi is one of the most famous and traditional sweets of India which originated in Nagpur. Soan Papadi or Sohan Papadi or Sohan Halwa is a very popular sweet square in shape and has a crisp and flaky texture.Ethnic taste comes alive in each heavenly bite of Sohan Papdi. Hence it is not a wonder to see people queuing up for it at sweet stalls specially on festive occasions like Diwali, Holi. Heres how you can try it out at home.
Method
Method of making Soan Papdi : Sweet Receipe
Sift both flours together.
Heat ghee in a heavy saucepan. Add flour mixture and roast on low till light golden. Keep aside to cool a little, stirring occasionally.
Prepare syrup simultaneously. Make syrup out of sugar, water and milk. Bring syrup to 2 1/2 thread consistency.
Pour at once into the flour mixture. Beat well with a large fork till the mixture forms threadlike flakes.
Pour onto a greased surface or thali and roll to 1" thickness lightly. Sprinkle the elaichi and gently press down with palm.
Cool, cut into 1" squares, wrap individually into square pieces of thin plastic sheet. Store in an airtight container.
Read more: http://www.awesomecuisine.com/recipes/312/1/Soan-Papdi/Page1.html#ixzz1eQVM8LBX
Ingredients
Ingredients required for preperation of Soan Papdi:
1 1/4 cup Gram Glour
1 1/4 cup Maida
250 gms Ghee
2 1/2 cups Sugar
1 1/2 cup Water
2 tbsp Milk
1/2 tsp Cardamom seeds crushed coarsely
4" squares cut from a thin polythene shee