Blessingsonthenet Features More Than 600 Festival, Fairs, Fast, State Festivals, Regional Festivals, Festival Recipes, Temple Festival,Festival Gallery (Audio, Video,Photo Gallery) of India.
Channa Usal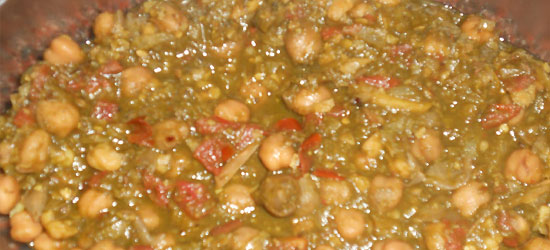 Channa Usal is a traditional maharashtrian receipe made on gudi padwa festival.Usal is a nutritious dish prepared with sprouted pulses and peas
Method
Methd of making Sprouted Chana Usal :

Clean and pressure cook sprouted chana till soft but whole. Boil cashewnuts till soft. Drain both and reserve.
Heat oil in a pan. Add cumin and mustard seeds. When they pop, add green chillies, curry leaves, asafoetida and turmeric powder. Stir fry.

Add chana, cashewnuts and a little water. Add salt and a pinch of sugar to give a sweet touch. Mix well and cook

Garnish with grated coconut and chopped coriander leaves.
Serve hot.
Ingredients
Ingredients for preparing Sprouted Chana Usal.

8 curry leaves
4 green chillies, chopped
2 cups red chana, soaked for one night, drained and wrapped in a piece of muslin cloth till well sprouted
2 cups cashewnuts, soaked in water for 2 hours
1 cup grated coconut
1/2 cup coriander leaves, chopped
3 tbsp oil
1/2 tsp mustard seeds
1/2 tsp cumin seeds
1/2 tsp turmeric powder
1/4 tsp asafoetida
salt and sugar to taste