Blessingsonthenet Features More Than 600 Festival, Fairs, Fast, State Festivals, Regional Festivals, Festival Recipes, Temple Festival,Festival Gallery (Audio, Video,Photo Gallery) of India.
Til Ladoo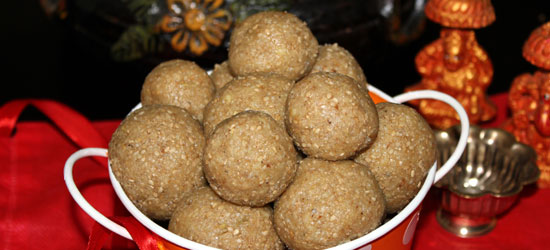 No festival in India is complete without the array of delicacies that are prepared especially for the occasion and Makar Sankranti is no exception. Each state has its own special dishes, but what is common all over the country is Sesame or til - this aromatic seed is used to prepare a number of delicacies, mostly sweets.

In south india it is called as ellu urundai made during shradh. but the sesame seeds used for the same are black coloured ones.

Heres how you can make some delicious Til Ladoo.
Method
Method of making til ladoo :
1. In a heavy saucepan, dry-roast the sesame seeds until light brown in color. Set aside.
2. Prepare syrup by adding ½ cup water to a heavy saucepan. Add the powdered jaggery and slowly bring to a boil. Now add the chopped coconut pieces. Simmer on a low heat until the syrup becomes thick and sticky. Add the roasted sesame seeds. Mix thoroughly.
3. Turn off the heat and quickly shape the mixture into small balls with your fingers. Store in an airtight container
Ingredients
Ingredients for preparing Til Ladoo.
White sesame seeds 4 cups
Water ½ cup
Jaggery 1½ cups
Coconut,cut into very small pieces