Blessingsonthenet Features More Than 600 Festival, Fairs, Fast, State Festivals, Regional Festivals, Festival Recipes, Temple Festival,Festival Gallery (Audio, Video,Photo Gallery) of India.
Aval Payasam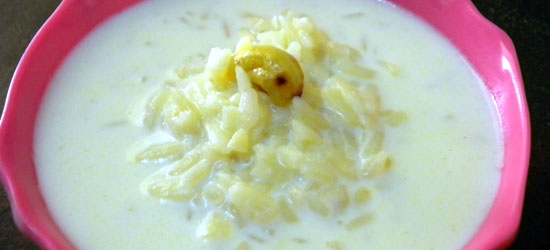 Aval Payasam is made with milk and poha.,usually made in South India Janmashtami festival is dedicated to Lord Sri Krishna to commemorate his birth ceremony. On the occasion of Janmashtami , the devotees of Krishna prepare scrumptious sweet dishes from milk and curds that Krishna loved Aval Payasam as Neivediyam (offering) for Lord Krishna .
Aval Payasam is extremely easy to prepare and hardly take any time to be ready to serve. And best of all, it used ingredients that can be found at any given time in most Indian pantries - aval or poha (beaten rice), cardamom, milk, cashew nuts, ghee and raisins. Since aval is so easily cooked, there is no need for pressure-cooking or soaking anything.
Method
Method for making Aval Payasam :
Heat a vessel and pour in the ghee. When it becomes just hot, fry the cashew nuts and raisins separately in it and remove from the ghee. In the same hot ghee, fry the beaten rice very well to a reddish brown pleasing color and remove to a plate. Bring the water to the boil and add the fried beaten rice. Stir occasionally till boiled to a pulp. Add sugar stirring now and then till the sugar has blended into the beaten rice. Now pour in the boiled milk, saffron-soaked milk, and simmer over low heat till semi-thick. Just before taking down from the heat, add the fried cashew nuts, raisins, and cardamom powder. Stir thoroughly, keep aside for 15 minutes, and serve.
Ingredients
Ingridents required to make Aval Payasam :
Beaten rice - 3/4 cup
Sugar - 1/2 cup
Milk - 2 cupfuls
Cashew nuts - 7
Cardamoms - 7 (finely powdered)
Saffron - 1/4 teaspoon, soaked in 2 tablespoons of hot milk (this gives the deep yellow color)
Raisins - 1 tablespoon
Ghee - 1 tablespoon
Water - 3 cups