Blessingsonthenet Features More Than 600 Festival, Fairs, Fast, State Festivals, Regional Festivals, Festival Recipes, Temple Festival,Festival Gallery (Audio, Video,Photo Gallery) of India.
Two Coloured Coconut Barfi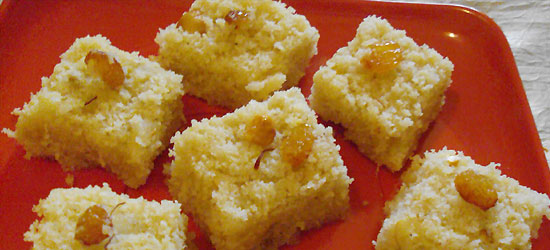 Indians frequently take barfi as a gift when visiting friends. It is also prepared during Raksha Bandhan. Barfi is a milk treat that can be made with several ingredients - nuts, fruits, flour, and even vegetables! The ground ingredients are cooked with sugar to a fudge-like consistency. In order to give the barfi an attractive look it is often decorated with silver foil.
Method
Method of makind Twin Coloured Coconut Burfi : Sweet Receipe.
1 In a heavy-bottomed dekchi cook milk, malai and grated coconut.
2 Keep stirring in between when the mixture starts thickening, add sugar.
3 Lower the fire, stir occasionally till the mixture becomes real thick and leaves the sides of the dekchi.
4 Remove dekchi from fire. Divide the mixture into two equal parts.
5 Take away one part, add a few drops of green colour and half of the cardamom powder. Mix well so that the green colour is evenly spread.
6 Lightly grease a deep metal plate. Place this green lump in the thali and spread it into even layer.
7 Now place the dekchi containing one portion on medium fire and put in the saffron milk. Stir well so that this coconut mixture comes to a nice yellow colour.
8 While stirring add the remaining half of the cardamom powder.
9 Spread this on the green layer in the plate.
10 With the back of a big round spoon make the barfi even and smooth.
11 Spread one or two silver varg (leaves) on top to add to its beauty.
12 When the barfi is well set. Cut it into square or diamond shapes
Ingredients
Ingredients for preparing Two Coloured Coconut Barfi.
2 fresh coconuts, grated
3 cups milk,
1/2 cup cream (malai)
1 tsp cardamom powder
1/2 tsp saffron, heated, curshed and dissolved in a tbsp.of milk.
400 gms. sugar