Blessingsonthenet Features More Than 600 Festival, Fairs, Fast, State Festivals, Regional Festivals, Festival Recipes, Temple Festival,Festival Gallery (Audio, Video,Photo Gallery) of India.
Vegetable Biryani.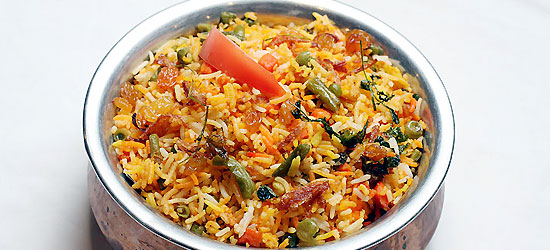 The crowning glory of India's rice dishes is the Biryani . Vegetable Biryani has a hefty serving of vegetables and tastes very authentic .Biryani can either be a Veg. or a Non-Veg. preparation generally made for the duration of special occasions. It is a whole meal by itself, and is almost all time the centre-piece of most Indian dinner parties. Is usually served with curry and curd spiked with fresh green herbs.
Method
Making of Biryani :
Wash the rice clean, and soak in water for 15-20 minutes.
While it is soaking, chop the vegetables into small cubes.
Chop the onion long. Heat a cooking pan over a medium flame, and fry the onion in a tablespoon of oil until it is golden-brown. Add the spices and salt, and sauté for a minute. Add the chopped vegetables, mix well, and fry for five minutes.
Drain the rice, and add it to the contents in the pan. Add 750 ml of water, stir gently till all the ingredients are thoroughly mixed. Turn the flame to high, and bring to a boil. Then, reduce flame so that the contents simmer. Cover, and cook for about 15 minutes.
After it is cooked, remove from flame, allow the steam to escape for five minutes, and garnish with chopped coriander leaves.
Serve with raita
Ingredients
Ingredients for preparing Vegetable Biryani.
· Basmati rice or long-grain rice - 400 gm
· Vegetables (potatoes, beans, carrot, peas, cauliflower) - 400 gm
· Onion - 1
· Vegetable oil - 60 ml
· Chilli powder - 5 gm
· Turmeric powder - 3 gm
· Garam masala - 5 gm
· Cardamom - seeds of 1 pod
· Cumin powder - 5 gm
· Cloves - 4
· Cinnamon - 3-cm stick
· Coriander leaves - 1 tsp
· Salt to taste