Blessingsonthenet Features More Than 600 Festival, Fairs, Fast, State Festivals, Regional Festivals, Festival Recipes, Temple Festival,Festival Gallery (Audio, Video,Photo Gallery) of India.
Ven Pongal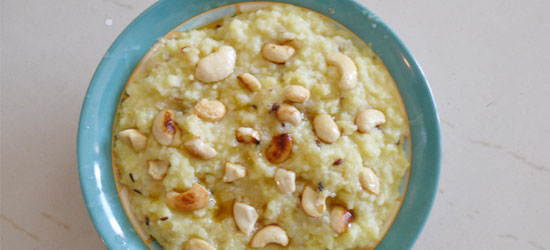 Pongal, in Tamil, means boil over. Venn means white. So Venn Pongal is the white rice that was traditionally prepared in clay pots with the rice cooked till it boiled over the pots. Also known as Kichdi, this is the ultimate comfort dish. In South India, Pongal is made on the harvest festival to celebrate prosperity and abundance. The rice used in this dish is not the Basmati rice, but its shorter, stickier cousin, Sona Masoori. Pongal by itself is relatively bland, so it needs to be paired with something spicy and tangy.
Method
Method of making Ven Pongal :

Wash and drain the dal and rice together.
Place in a colander till all the water drain.
Heat ghee, add seeds, leaves, corns, asafoetida and the rice and dal.
Fry pepper, cumin seeds, hing, curry leaves, and ginger in 2 t.spoons ghee, and add this to the above pongal.
Fry cashews in 1 t.spoon ghee and add to the above.
Add salt and remaining ghee and mix everything well.. Gently stir till you get the aroma (5 minutes).
Ingredients
Ingredients for preparing Venn Pongal.

Rice 2 cups
Moong dal l 1/2 cup
Hing a small pinch
Curry leaves
Cashews Pepper 1/2 t.spoon
Cumin seeds 1/2 t.spoon
Ginger a small piece finely chopped
Ghee 1/2 t.spoon
Salt 1 t.spoon