Blessingsonthenet Features More Than 600 Festival, Fairs, Fast, State Festivals, Regional Festivals, Festival Recipes, Temple Festival,Festival Gallery (Audio, Video,Photo Gallery) of India.
Wheat Halwa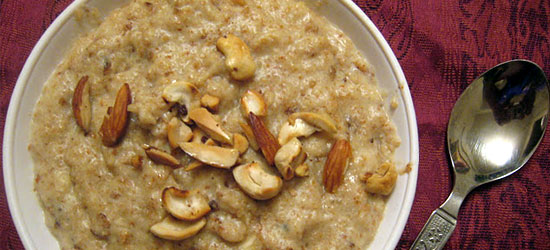 Wheat Halwa is the sweetest of all sweets.Halwa is a generic term. There are a dozen prefixes you can add to it, and produce a dozen different varieties of halwa. Even among the popular, translucent, variously coloured version, there are nuances that stamp the halwa with the name of the place where the particular procedure is followed.

The one common feature perhaps lies in the cooking - all the halwas need to be stirred constantly. A minute's break could produce dry, lumpy masses. Overcook, and you could have a rocky and sticky mass that sticks to the teeth. Prepared well, though, the halwa becomes a soft confection that melts in the mouth. Is it any wonder, then, that halwas are one of the morepopular sweets you find all over India.

Wheat Halwa is made of Wheat, Sugar and ghee.This is just one method of making the delicious sweet.Make in small quantities when doing for the first time.
Method
Method of making Wheat Halwa :
Soak the wheat and almonds in water for 24 hours.

Add a little water to the wheat and blend. Keep adding water and blending till it forms a runny liquid. Strain it through a cloth and squeeze well to get a white, milky extract. Set the extract aside till the solids settle down and there is a layer of clear water on the surface. Drain the clear water.

Blend the almonds till they become a coarse paste, and add that to the wheat extract.
Melt the ghee. In another pan, pour the sugar and some water to make sugar syrup. Fry the cashewnuts in a little ghee and keep aside.

When the sugar syrup is ready, add the wheat-almond mix to it slowly, stirring all the time. Add the saffron. Once the mixture begins to solidify, keep adding ghee at regular intervals, stirring continuously.
When the halwa stops sticking to the sides and comes away from the vessel when raked with the ladle, add the powdered cardamom, take off the flame, and spread on a tray to cool. Cut into squares or diamonds.
Ingredients
Ingredients for preparing Wheat Halwa.
· Wheat - 2 cups
· Almonds (badam) - ¾ cup
· Cashewnuts - ½ cup
· Sugar - 5½ cups
· Ghee - 30 ml
· Cardamom - 2 pods
· Saffron - a pinch