Blessingsonthenet Features More Than 600 Festival, Fairs, Fast, State Festivals, Regional Festivals, Festival Recipes, Temple Festival,Festival Gallery (Audio, Video,Photo Gallery) of India.
Christmas Cake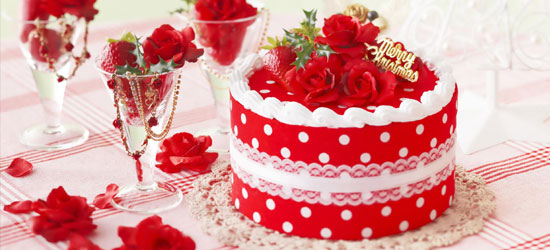 The Christmas cake is the cake most people want to have a go at, or lend a hand with as it's a fun cake for everyone. Bring in the festive mood with this sweet temptation.
Method
Method of making Christmas Cake :
1 Cream margarine and sugar till light and fluffy.
2 Beat the eggs and gradually add to the mixture.
3 Add the flour, sifted with baking powder.
4 Blend the batter well and mix the fruits and the chopped almonds and walnuts.
5 Stir in the milk so that the mixture becomes even and smooth.
6 Grease a round cake tin and grease it.
7 Pour the ready cake mixture.
8 Cover with a grease-proof paper.
9 Bake in a preheated over at 350 degree F for 20 minutes.
10 When the top is golden in colour, take it out from the oven.
11 If desired, spread some hot chocolate icing over it.
12 Decorate with cherries.
Ingredients
Ingredients for preparing Christmas Cake.

120 gms margarine
2 eggs
120 gms sugar
1 Tablespoon milk
175 gms refined flour
1 level teaspoon baking powder
50 gms mixed fruit (Currants Sultanas, raisins)
gms almonds chopped
15 gms walnuts chopped