Blessingsonthenet Features More Than 600 Festival, Fairs, Fast, State Festivals, Regional Festivals, Festival Recipes, Temple Festival,Festival Gallery (Audio, Video,Photo Gallery) of India.
Christmas Pudding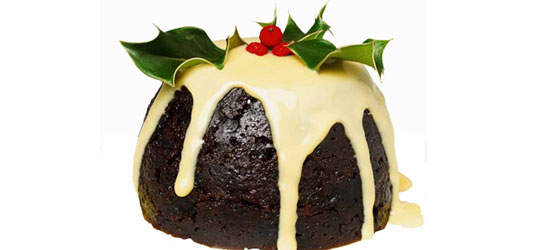 In India, Christmas recipes in urban areas usually mean a cake and a roast chicken, along with other Indian recipes, such as curry and rice. However, there is nothing like a traditional Christmas pudding, rich with flavour and soaked in Brandy. You can make one at least a week before Christmas, though the longer it's stored the better it's supposed to be. Here's how you can make your own:
Method
Method of making Christmas Pudding :
The first day:
Sift the flour, spices and salt into a large mixing bowl. Stir in the breadcrumbs, dried fruits, peel, almonds and sugar. Add the suet and mix well.
Beat together the eggs, milk and brandy separately, then add them to the main mixture. Ensure that all the ingredients are thoroughly mixed. The mixture should have a sloppy consistency and be covered and left overnight.
The next day:
When you are ready to steam the pudding, pack the mixture into a lightly greased basin and cover with a non-stick baking paper. Then enclose the entire basin in foil, and tie it with string. Usually unbleached mulmul or muslin is used.

Place the pudding on an upturned saucer in a saucepan of simmering water for 5 hours to steam. The water should come half way up the basin. Remember to top up the water in the saucepan as needed during the steaming process.

Once cooking time is over, allow the pudding to cool completely. When this is done remove the foil and the non-stick baking paper, and replace them with fresh ones. The pudding should be stored in a cool dry place so it can mature until Christmas day. To reheat the Christmas pudding, steam it as again for about 3 hours.

To serve:
Traditionally, the pudding is lit before serving. Heat some brandy in a ladle and put a match to it. The brandy will be covered by a blue flame. Carefully pour it over the whole pudding, and get ready for a dramatic dinner!
Ingredients
Ingredients for preparing Christmas pudding.
· 225g (8oz) plain flour
· 1 tsp cinnamon
· ½ tsp grated nutmeg
· ½ tsp ground all spice (mixed spice)
· 100g fresh breadcrumbs
· 550g seedless raisins
· 150g (60z) candied peel, chopped finely
· 50g (2oz) blanched almonds, chopped
· 225g (8oz) soft dark brown sugar
· 225g (8oz) shredded suet
· 4 eggs
· 200ml (6 fl. oz) milk
· 100ml (4 fl. oz) brandy (or use milk for a non-alcoholic version)
· A pinch of salt