Blessingsonthenet Features More Than 600 Festival, Fairs, Fast, State Festivals, Regional Festivals, Festival Recipes, Temple Festival,Festival Gallery (Audio, Video,Photo Gallery) of India.
Dahi Bhalla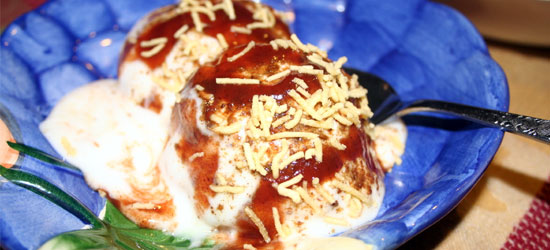 Dahi Bhalla is a popular curd-based delicacy prepared during the holi festival.

Lentil dumpling soaked in yoghurt sauce is a favorite Indian dish that has come to be a favorite with all ages. The lentil makes it a high protein food that you could enjoy on any occasion.
Method
Method of making Dahi Bhalla :
1. Mix and wash both the Dals ( Urad Dal and Mung Dal)
2. Soak them in plenty of water and leave overnight
3. Next morning , discard the water and Grind them to a smoot paste ( you may need to add a bit of water to help grinding)
4. Mix the salt and the finely diced ginger in this batter.
5. make small balls of the batter and deep fry them until golden brown
6. Take them out on some kitchen towels to drain excess oil.
7. Transfer the fried Wadas into water and leave them dipped in water for 5 minutes.
8. Now take the wadas out and squeeze each wada to remove excess water.

9. Now take the yoghurt and light beat it, thin it with water if needed.
10. Add Green chillies in the yoghurt.
11.Add the wadas in the dahi.

12. Take some oil and heat it in a small fry pan, add the mustard seeds and fry till they start crackling.
13. Add the Asafoetida and curry leaves and fry.
14. Pour this mixture of oil on top of the yoghurt.
15. Sprinkle some Chat Masala and Red Chilli powder.
Ingredients
Ingredients for preparing Dahi Bhalla.
Cooking time: 1 Hour
For the bhallas:
1 cup (200 g) lentils (dhuli urad dal and mung dal )
600 ml water
1/2 tsp (2 g) salt
1 tsp (5 g) cumin seeds
2 tsp (10 g) ginger, chopped
5 g green chillies, chopped
250 ml oil

For the curd mixture:
2 cups (400 ml) thick curd, beaten
1 tsp (5 g) sugar
1/2 tsp (2 g) salt
3/4 tsp (4 g) cumin powder
1/2 tsp (2 g) black rock salt
1/2 tsp (2 g) white pepper powder

For the garnishing:
1 tsp (5 g) ginger,
1 tsp (5 g) green chillies,
5 g coriander leaves, chopped
a pinch of chilli powder
a pinch of cumin powder
4 sprigs mint leaves
2 2/3 tbs (40 ml) tamarind chutney