Blessingsonthenet Features More Than 600 Festival, Fairs, Fast, State Festivals, Regional Festivals, Festival Recipes, Temple Festival,Festival Gallery (Audio, Video,Photo Gallery) of India.
Jalebi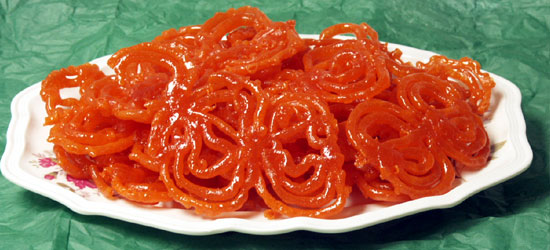 Jalebis, with their bright, sunny, flowery look, bring to mind a happy day. And they are happy sweets - easy to make, easy to eat, easy to digest, unless you make a full meal of them. Breakfast time and afternoon teatime, especially in North Indian towns, see people milling round roadside sweets-and-savouries stalls for a snack of samosas and jalebis.
In the South, jalebis (also called jaangris) are more 'occasion' sweets, but equally loved.
Method
Method of making Jalebi :
1. Mix together the blended curds and sifted flour blend in the cheese. Whisk briskly and keep aside, for 15-20 minutes.

2. Meanwhile make the syrup by boiling together the sugar and water.

3. Add the milk and remove the scum from the surface. Boil till you get a syrup of 'one thread' consistency.

4. Heat oil, preferably in a non-stick frying pan. Put the jalebi mixture in a plastic bag or piping nozzle and pipe 7 cm. rings in hot fat. Fry till golden and immerse in warm syrup for 5-7 minutes. Serve hot.
Ingredients
Ingredients for preparing Jalebies.
1-1/2 cup flour (Maida)
½ tsp baking powder
¼ tsp salt
1 cup fresh curds and ½ cup
blended together
70 gm Amul Cheese - grated
Oil for frying

Syrup
1 cup sugar
1 cup water
1 tbsp milk
Pinch of saffron