Blessingsonthenet Features More Than 600 Festival, Fairs, Fast, State Festivals, Regional Festivals, Festival Recipes, Temple Festival,Festival Gallery (Audio, Video,Photo Gallery) of India.
Badam Halwa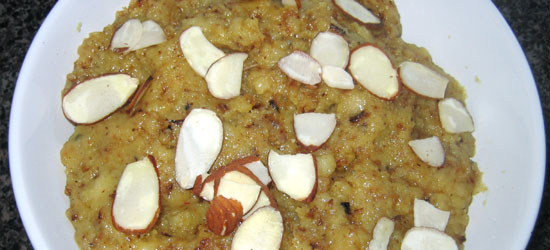 Badam halwa is a delicious desert made with puréed almonds, butter/ ghee (clarified butter), sugar and saffron. The delicate flavor of saffron gives rich finish and beautiful pale yellow color to the halwa.Almonds (Badam) are extensively used in Indian cooking even though they are little expensive. Almonds are often used for garnish, also makes a beautiful presentation.On the occasion of Diwali, Badam halwa is one of the most sought and gifted sweet dishe.

Almond paste is often used in savory dishes and to instead of cream. It gives a rich and delicate finish to the dish.
Halwa is a generic term. There are a dozen prefixes you can add to it, and produce a dozen different varieties of halwa. Even among the popular, translucent, variously coloured version, there are nuances that stamp the halwa with the name of the place where the particular procedure is followed.
The one common feature perhaps lies in the cooking - all the halwas need to be stirred constantly. A minute's break could produce dry, lumpy masses. Overcook, and you could have a rocky and sticky mass that sticks to the teeth. Prepared well, though, the halwa becomes a soft confection that melts in the mouth. Is it any wonder, then, that halwas are one of the morepopular sweets you find all over India.
Method
Method for making Badam halwa :
Overnight Soak the almonds overnight in warm water. Peel them in the morning, add the cardamom seeds, and grind to a runny paste. Or
Boil a cup of water, add badam to it, let it boil for 2 mins. If the badam is aged, it floats on top, therefore you can proceed to peel its skin.
If the badams don't float, it means they are new, so you have to give soaking time for badams from 1-2hrs. After 2 hrs rub their skin off.
First Grind the cashews into a coarse powder, remove the grounded into a bowl and set aside.
Secondly, Grind the soaked and skinned badam into a coarse paste with little water(about 6 tbsp's). The coarse paste should be like the one as grainy as shown in the pic above. I prefer halwa to be grainy than so smooth. this gives a nice texture to the halwa.
Now heat a thick bottomed kadaai, add ¾ sugar. ¾ water so that the sugar immerses in water. Make sugar syrup till it reaches single string consistency.
How to check single string consistency?
Once the Sugar Syrup starts boiling, switch over to medium flame, keep on checking the syrup every 30 seconds. It may take from 3-5 minutes in medium low flame to attain the single string consistency.
Swipe a little syrup with your pointing finger, rub it with thumb and stretch the two fingers slowly, you will get a single string.
Once the Sugar Syrup reaches single string consistency, add the grounded badam and cashew to the syrup and mix well with a slotted spoon. Make sure you break the lumps formed.
Keep stirring the halwa in medium flame for about 5 -7 minutes.
In Between, the halwa gets thicker and starts sticking to the kadaai. At this stage, you can start adding ghee 1 tbsp at a time in 1 minute intervals.
Slowly the halwa stops sticking to the kadaai and when ghee is added, halwa absorbs the ghee little later.
Add lemon yellow food colour and saffron strands to the halwa and mix well.
Take a small pinch of halwa with your fingers. You should be able to shape the halwa into a small ball without sticking.
Once the halwa is done, remove to a bowl. Cut the Butter Paper by 20 cm X 10 cm.
place halwa in between, fold all sides.Since no milk is added in halwa, this keeps well for 4-5 days. store the halwa in room temperature.
The Next day, halwa gets little firmer .
Ingredients
Ingridents to make Badam Halwa :
Badam / Almond - ½ cup (4 0z)
Cashew - ¼ cup (2 oz)
Ghee - 8 tbsp's
Lemon Yellow Food Colour - a small pinch
Vanilla essence (optional)
Saffron - few strands .
For Sugar Syrup:

Sugar - ¾ cup (7 oz) (you can add 1 cup(8 oz) of sugar, if you prefer sweeter halwa)
Water - ¾ cup