Blessingsonthenet Features More Than 600 Festival, Fairs, Fast, State Festivals, Regional Festivals, Festival Recipes, Temple Festival,Festival Gallery (Audio, Video,Photo Gallery) of India.
Kala Jamun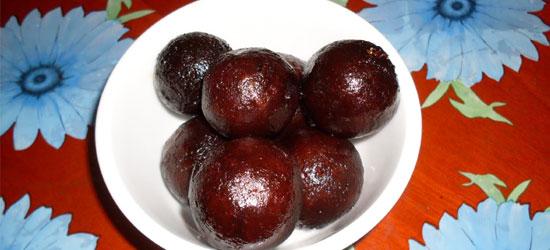 Kala Jamun is a delicious sweet, especially made during festivals and gifted specially in Diwali.
The Kala Jamun (a variation of Gulab Jamun)... a darkish variety is prepared in the same way as the regular Gulab Jamun's except that the balls are coated with Castor sugar and then fried. The caramelized sugar gives the Jamuns the dark colour. They are often served garnished with dessicated coconut coating.

If you have not tried the kala jamun before, you are in for a treat. It is an experience. You will delight in the carmelized taste of its crust, just then its silky insides will hit your palate, and as you are enjoying this the moist juices flavored with cardamom and rose will carry you to pure bliss.
Method
Method of making of Kala Jamun ; Sweet Receipe
1.Grate Khoya and paneer. Keep it aside
2.Make sugar syrup.
3.Mix grated khoya, paneer, flour and cardomom powder.
4. Add some water and make it into a soft dough.
5.Add milk to make the dough more soft.
6. Divide the dough into equal portions and shape it into small round balls.
7.Heat Ghee in a kadai
8.Add the balls and deep fry till it changes to a dark brown.
9.Drain and dip it in the sugar syrup. Let it soak for some time
10.Allow the balls to soak completely in the sugar syrup.
11.Drain it from the syrup and place in a serving bowl.
12.Decorate the jamuns with silver foils and chopped nuts
Ingredients
Ingredients for preparing Kala Jamun.

Khoya 350gms
Paneer 200 gms
Plain flour 65 gms(1/8 cup)
Sugar 600 gms
Water 4 cups
Cardamom powder1/2 tsp.
1 tbsp. milk if required
ghee for deep frying