Blessingsonthenet Features More Than 600 Festival, Fairs, Fast, State Festivals, Regional Festivals, Festival Recipes, Temple Festival,Festival Gallery (Audio, Video,Photo Gallery) of India.
Cholar Dal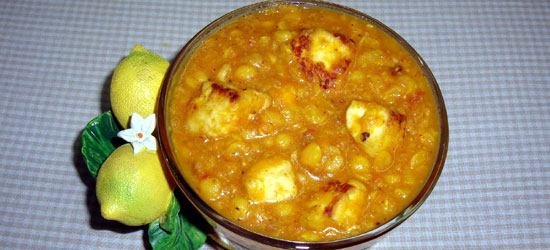 Cholar dal with coconut is a very popular bengali dish and is a fixed item on the menu on wedding feasts or during Durga puja bhog. It is mostly cooked on special occasions .
Cholar Dal is the dal with uber arrogance. It is a bit of a snob, not the kind you would like to come home to every day but the kind you would like to glamorize your dining table with when you have company. Standing alone, presumptuous, it might not seem to be the best thing to befriend. But when it has company with Kachuri or Luchi or chapattis or even a Pulao it will dazzle you.
Method
Method to make Cholar Dal :
Clean the chana dal, and boil it in about 400 ml of water till it is cooked soft. Drain excess water and keep aside.

Heat the oil in a pan, add all the other ingredients, and stir-fry for three minutes over a low flame. Add the boiled dal, mix well, and cook for a couple of minutes. Serve with hot luchis.
Wash the dal and boil with 4 cup of water.
Mix in turmeric, cumin, garam masala, and slit green chillies.
Mix in salt and sugar to taste.
Mix well and stir fry till the time the dal is soft and thick.
Heat up ghee in a kadhai.
Mix in bay leaves and garam masala.
When it stops spluttering mix in it to the dal.
Mix thoroughly.
Cut the coconut into small dices and fry in ghee till light brown.
Mix in this to the dal and stir.
Serve hot along with luchi.
Ingredients
Ingridents required to make cholar dal :
1 tblsp ghee
4 -6 green chillies slit
1 tsp garam masala powder
1 tblsp coriander powder
3 bay leaves
1/4 coconut
1 tsp red chilli powder
1 tsp turmeric powder
2 - 4 tsp sugar
250 gms bengal gram divide (chana dal)
1 tblsp cumin powder
salt to taste
1 tblsp raisins
8gm Ginger, grated
4-5 leaves Tej patta
2-3 Green chillies, chopped
15 gm Jeera (cumin seed)