Blessingsonthenet Features More Than 600 Festival, Fairs, Fast, State Festivals, Regional Festivals, Festival Recipes, Temple Festival,Festival Gallery (Audio, Video,Photo Gallery) of India.
Coconut Burfi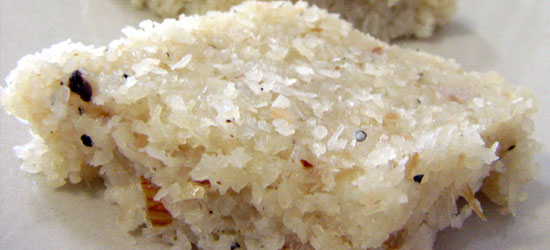 Coconut Burfi is a very popular Indian sweet.coconut barfi has been a popular favourite for ages. It is a simple dish to make, and can be rustled up in a jiffy. Nevertheless, it must be eaten in moderate quantities - the coconut and sugar combination may not agree with some people. It doesn't keep well for too long because the coconut begins to give off a stale smell after a few days. This is a sweet made on the auspicious occasion of Diwali and offered to Lord Rama .
Method
How to make coconut burfi:
Mix khoya and coconut and fry them lightly with ghee on a low heat.
Add cardamom and mix well.
Prepare one-string syrup by dissolving sugar in the water.
Now stir the coconut mixture into the syrup.
Grease the plate and spread the grated nuts on it.
Spread the prepared evenly over the plate and allow it to cool.
Now with the knife, cut it into desired shapes.
Turn them over so that nuts covered part appears on the top.
Coconut or Nariyal ki burfi is ready to be served.
Ingredients
Ingridents required to make Coconut /Naryal Burfi :
225 gms Khoya
225 gms coconut (dry and ground)
1 tsp cardamom seeds (ground)
1 tbsp ghee
2 1/2 cups sugar
2 cups water
1/2 tsp almonds (grated)
1/2 tsp pistachios (grated)225 gms Khoya
225 gms coconut (dry and ground)
1 tsp cardamom seeds (ground)
1 tbsp ghee
2 1/2 cups sugar
2 cups water
1/2 tsp almonds (grated)
1/2 tsp pistachios (grated)