Blessingsonthenet Features More Than 600 Festival, Fairs, Fast, State Festivals, Regional Festivals, Festival Recipes, Temple Festival,Festival Gallery (Audio, Video,Photo Gallery) of India.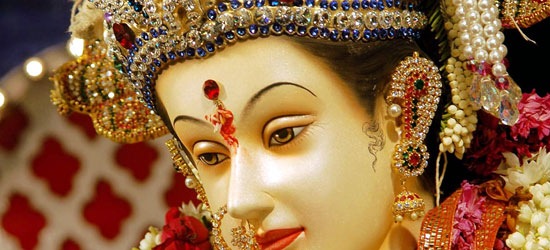 Navratri - the festival of nine nights is celebrated to pay reverence to the benign Goddess Durga. The festival is the celebration of the eternal truth that truth prevails, whatever the circumstances. As the dark clouds bid adieu to us, the pleasant season of Sharad (Autumn) ushers in and with it begins an array of festivities. Though it is celebrated in almost all parts of India, the celebrations in Gujarat, Mumbai and Mysore holds more prominence.
People pay homage to the nine manifestations of the female principle - Shakti, the very basis of our existence. Each day is dedicated to one of the nine manifestations of the Divine Goddess, the embodiment of immense prowess, intellect and generosity. Colorful Torans adorn the threshold of each house; people are ready to welcome their cherished Goddess to their humble abodes.
As the Sun recedes to the background and darkness sets in, one can sense the enthusiasm, which pervades the air. Resonant drumbeats and foot tapping garba numbers are heard in every corner of the street. Men and women dressed in their traditional best come together to dance to the foot tapping Dandiya numbers. For nine nights, they dance with utmost fervor, some dance with reverence to the Goddess, while for some it's just an excuse to shed their inhibitions and forget their worries. Whatever the reason maybe, Navratri is a festival of joy and revelry.