Blessingsonthenet Features More Than 600 Festival, Fairs, Fast, State Festivals, Regional Festivals, Festival Recipes, Temple Festival,Festival Gallery (Audio, Video,Photo Gallery) of India.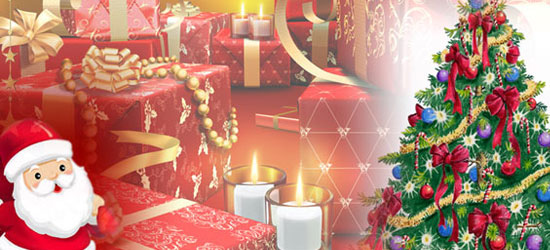 Christmas - the birth anniversary of Jesus Christ is celebrated with great cheer and enthusiasm all over India by the Christians. It falls on December 25 every year. People in their best clothes attend the special services of midnight. It is a week long festival of feasting rejoicing, greetings and giving and receiving gifts.

The celebrations start on Christmas eve with carol singing, visiting friends and relations till late in the night. On the final day, a midnight mass followed by the ringing of the church bells, ushers in the New Year, In big cities and towns processions are taken out with tableaus depicting the life and teachings of Jesus Christ, and other Christian saints. At some places special stalls are set up and fairs are held. Christians beautifully decorate their houses, shops, establishments, hospitals, schools and churches and illuminate them. They erect Christmas trees and exchange greetings around it. The Roman Catholics do not raise these trees.
Christmas is also an occasion of family reunion. The members of the family living and working at distances and different places join together in merrymaking at one place and enjoy themselves. In India it is a general holiday.
Christians have also contributed to the religious and cultural variety and richness of India Perhaps the first Christians to land here were those who fled persecution from Persia and Mesopotamia in the middle of the fourth century and landed at the Malabar Coast. Like the Jews, they also found found, a ready asylum here. Thus, the roots of Christianity in India are older then that of Islam. Hindus also take part with great cheer in Christian celebrations with their Christian friends and fellow workers.