Blessingsonthenet Features More Than 600 Festival, Fairs, Fast, State Festivals, Regional Festivals, Festival Recipes, Temple Festival,Festival Gallery (Audio, Video,Photo Gallery) of India.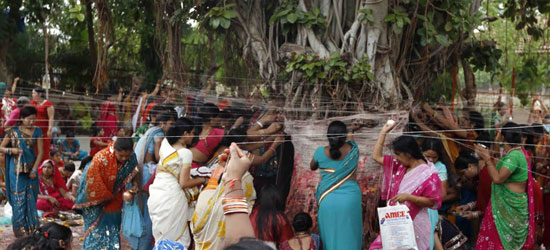 Vata Savitri Vrath fast which generally occurs on the thirteenth (Triyodashi)of the waning moon (krishnapaksh)in the month of Jyeshta is one more festival that worships a tree.
On this day which is also usually a Amavasya(no moon day) the vata(banyan) tree is worshipped. But at some places it is also observed on Jyaishtha Purnima. It is meant only for the married women. The Hindu married women observe this fast for the sake of longevity and well being of their husbands.
This fast is traditionally undertaken by married women, though even unmarried girls observe it nowadays. On this day they pray for the long life of their husbands and pray that they never be widows.
The significnace of this day is connected to the legendary story of Savitri who through her intelligence and ingenuity got back her dead husband's life.
Savitri was the only child of Ashvapati, the king and queen of Bhadra region. She was born after they invoked Goddess Savitri (Saraswati) and was a personification of the Goddess herself and so was given the name Savitri.
Savitri grew up to be a wise and intelligent girl and on attaining adulthood, was allowed by the parents to go and pick a suitable life-mate for herself. After a long trip, Savitri chose Satyavan, the son of the exiled and blind king Dhumatsen. When she informed her parents of her choice Narad, the teacher among gods (Devrishi), who was also present on the occasion, congratulated Ashvapati on the suitablity of Savitri's choice but also prophesied that Satyavan would die after one year of the marriage.
The dismayed, parents asked Savitri to choose another life mate but Savitri refused saying that she had already made her choice and did not want to change her mind.
So Savitri and Satyavan went to live in the forest where Savitri was Satyavan's constant companion and friend.
Four days before the completion of one year of their married life, Savitri undertook a fast for three days and sat still day and night.
On the fourth day, she got up early, finished her daily routine, recited her prayer, paid respects to her in laws and accompanied, Satyavan. to the forest.
When at work, Satyavan felt a little giddy, so he decided to rest under a tree but he soon died in Savitri's lap.
Savitri remembered Narad's prophecy and made up her mind to face the consequences.
Yama (God of death) came to take away Satyavan's soul. He did so and started his journey towards Yamlok (Yama's abode in heaven also-the abode of death). Savitri started following Yama; he asked her to not follow him but Savitri said she was tied to Satyavan by marriage and she would go wherever her husband went. Yama tried his best to dissuade Savitri from following bu he was not able to outwit her knowledge, wit and common-sense. He ultimately granted her Satyavan's life.
Vata is a sacred tree among the Hindus. On the Satyavan died Savitri had worshipped the Vata(Banyan tree).
So, on this day women get up early in the morning and having bathed they go to worship the Vata in-groups. They ceremonially water the tree, sprinkle red powder on it, raw cotton threads are wrapped round its trunks, and then they go seven times round it to do parikrama.
On returning home they paint a Vata tree on the sanctified wall with turmeric powder and sandal and offer it prayer and worship. After breaking their fast, fruits, clothes and such other articles are given in charity in a bamboo basket to the Brahmins.
They repeat the story of Satyavan-Savitri among themselves and pray for the prosperity and good health of their husbands
More on Vata Savitri Vrath