Blessingsonthenet Features More Than 600 Festival, Fairs, Fast, State Festivals, Regional Festivals, Festival Recipes, Temple Festival,Festival Gallery (Audio, Video,Photo Gallery) of India.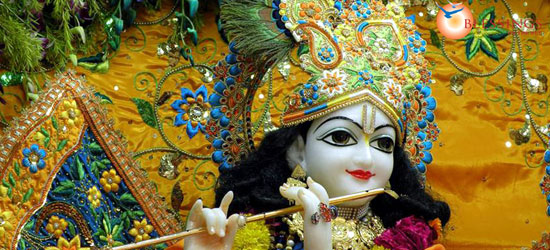 On the eighth day of the dark fortnight of the month of Shravan, Lord Krishna, the eighth incarnation of Lord Vishnu was born to liberate mankind from the atrocities of the evil King Kamsa. Every year Janmashtami is celebrated to commemorate the birth of Lord Krishna. Grand festivities, colorful tableaux featuring the antics and exploits of Lord Krishna, enactment of the Leelas of Lord Krishna, are the characteristics of this festival.

Lord Krishna as the embodiment of love, he charmed the gopis with his alluring smile and the melody of his flute. Lord Krishna as the manifestation of supreme wisdom krishna imparted the philosophies of Bhagwad to Arjuna on the war front. On this auspicious day we celebrate the birth anniversary of Lord Krishna. Adored by the Gopis, revered by the devotees and feared by the enemies, Lord Krishna took birth on this day to rid this world of the evildoers. Janmashtami, Gokulashtami, Krishna Jayanti or Sri Janyanti, this festival is known by many names. The festival is celebrated with equal fervor in all parts of the country. But the city of Krishna's birth, Mathura, takes precedence over the other cities in making the festival even more spectacular.

Sri Krishna Jayanti, therefore, signifies not merely the birth of a great and Divine teacher of mankind in some distant past but the lighting of the spark of the Divine Power in every one of us, which spurs us on to play our dynamic part in this world of practical and hard realities with a sense of high spiritual purpose. Krishna represents the total power of attraction (Aakarshna Shakti) like a magnet of infinite rise. Hence Krishna is the source of joy.
The cultural aspects are represented by the traditionally dressed devotees. The raas or dance is also done with devotees taking part with spiritual fervor. Sri Krishna who manifests all levels of joy, is also the source of spiritual joy, which overrides mental or emotional joy, just as emotional joy overrides physical joy. If all the three are integrated and interdependent, then the observance of the festival takes on the full meaning of Sri Krishnaarpanamastu - let everything be offered to Sri Krishna.
Send Janmashtami Greetings