Blessingsonthenet Features More Than 600 Festival, Fairs, Fast, State Festivals, Regional Festivals, Festival Recipes, Temple Festival,Festival Gallery (Audio, Video,Photo Gallery) of India.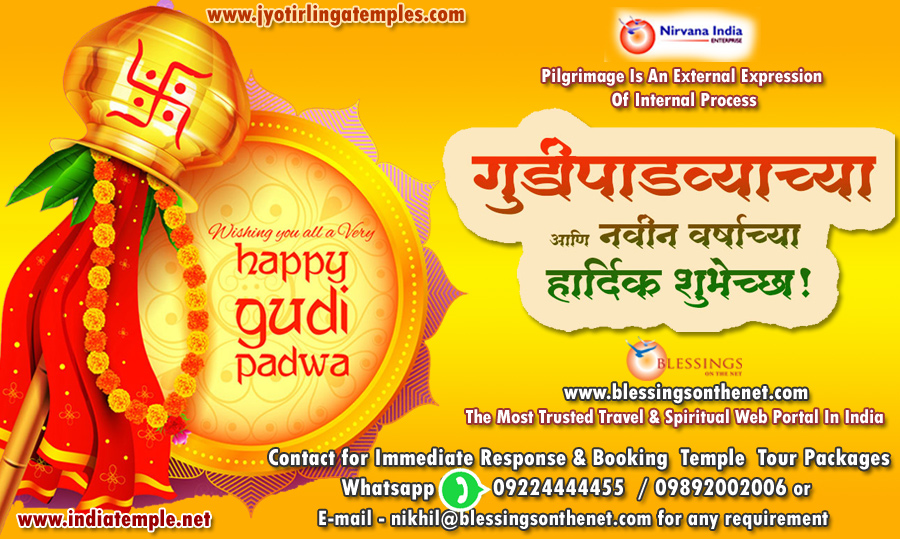 The Hindu Year begins on the first day of the month of Chaitra, "Shuddha Pratipada".Gudi Padwa is celebrated on the first day of the Hindu New Year. According to Brahmand Purana, it was on this day that Lord Brahma had created this Universe. The word Padava has been derived from the Sanskrit word "Pradhurbhu" which means, "Crop". Hence, Gudi Padava is identified as a harvest festival. The new crops symbolize prosperity, and give a feeling of optimism and hope.
Customs
The people get up early and clean their homes. Decorative rangoli designs adorn the threshold of every house. Multicolored Gudhis are hoisted on the rooftops. The Gudhi is a Bamboo staff with a colorful silk cloth tied to it. To enhance its beauty, a decorative kalash majestically stands atop the Gudhi. This symbolizes victory and it also acts as a charm to drive away the evil vibes and spirits. Fresh neem leaves and sweet candy garland also adorns the Gudhi, a symbolization of the bitter and sweet things in life. All the members of the family then worship the Gudhi. The prasad comprises of tender neem leaves coupled with gram pulse and jaggery.
Send Gudi Padwa Greetings