Blessingsonthenet Features More Than 600 Festival, Fairs, Fast, State Festivals, Regional Festivals, Festival Recipes, Temple Festival,Festival Gallery (Audio, Video,Photo Gallery) of India.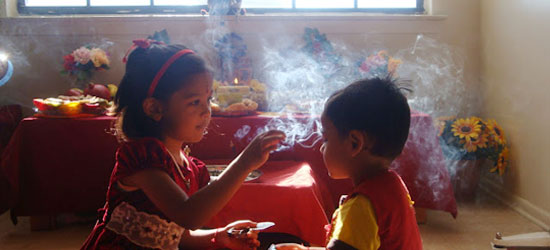 I'm your sister, Eat this sacred rice, For the pleasure of "Yam Raj" and "Yamuna"."
Bhai Dooj Festival or Bhaubeej Festival as it is known, is the fifth day of the Diwali festival, which falls on a new moon night. The name 'Dooj' or 'Duj' means the second day after the new moon, the day of the festival, and 'Bhai' means brother. This day is special amongst brothers and sisters and is observed as a symbol of love and affection. The bond between them is strengthened on this day. Traditionally the sister applies tilak with vermilion on her brother's forehead and performs on aarti of him, wishing him a long and successful life. In return, the brother blesses his sister and offers her sweets and gifts.

Mythological Significance
It's believed that on this day, Yamaraj, the Lord of Death and the Custodian of Hell, visits his sister Yami, who puts the auspicious mark on his forehead and prays for his well being. So it's held that anyone who receives a tilak from his sister on this day would never be hurled into hell.
According to one legend, on this day, Lord Krishna, after slaying the Narakasura demon, goes to his sister Subhadra who welcomes him the lamp, flowers and sweets, and puts the holy protective spot on her brother's forehead. Yet another story behind the origin of Bhai Dooj Festival says that when Mahavir, the founder of Jainism, attained nirvana, his brother King Nandivardhan was distressed because he missed him and was comforted by his sister Sudarshana. Since then,women have been revered during Bhai Dooj Festival.
Thus, every brother eagerly awaits this occasion that reinforces the bond between brothers and sisters and their affectionate relationship. It's an opportunity for a good feast at the sister's place, coupled with an enthusiastic exchange of gifts, and merriment in every Indian household.