Blessingsonthenet Features More Than 600 Festival, Fairs, Fast, State Festivals, Regional Festivals, Festival Recipes, Temple Festival,Festival Gallery (Audio, Video,Photo Gallery) of India.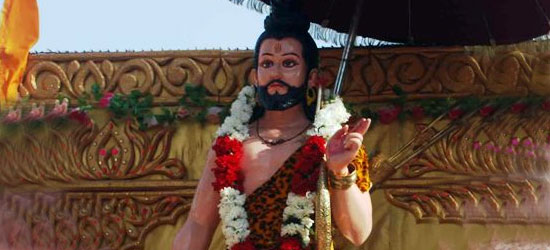 Parshu Rama Jayanti normally comes in Vaisakh on the third day of the waxing moon(shukl paksh).This is the day of birth of God Vishnu's sixth incarnation, Parshuram. He is considered to be the personification of valour and of devotion to father and mother.In ancient times, this birth day of the valorous and vain Brahmin born Kshatriya tempered Parshuram, was celebrated with great pomp and show.
Parshuram the sixth incarnation of Vishnu is the epitome of valour and devotion towards parents. Once his father, Jamadagni got angry with his wife Renuka and ordered Parshuram to murder her. Parshuram obeyed him and killed his mother. Contented with his act Jamadagni asked his son to ask for anything whatever he wanted. Parshuram asked to bring back his mother to life. It was Parshuram's cleverness that brought back his mother to life again. In this way Parshuram proved his devotion to his father and mother.
Jamadagni and their Kama Dhenu cow were killed by a kshatriya king, Kartavirya Sahashrarjun. Thus Parshuram vowed to kill all the kshatriyas on this earth and made it free from the autocracy of the kshatriyas. All the kshatriyas fled away due to the terror of him and no one remained to protect this earth. So Kashyap muni ordered Parshuram to leave this world. Parshuram went to mountain Mahendra and began living there.
Akshaya Tritiya is another name for the birthday of Lord Parasuram. There is a strong belief the merits gained by good acts on this day is permanent. It is believed that Akshaya Tritiya marks the beginning of the Treta Yug.
More on Parshu Rama Jayanti