Blessingsonthenet Features More Than 600 Festival, Fairs, Fast, State Festivals, Regional Festivals, Festival Recipes, Temple Festival,Festival Gallery (Audio, Video,Photo Gallery) of India.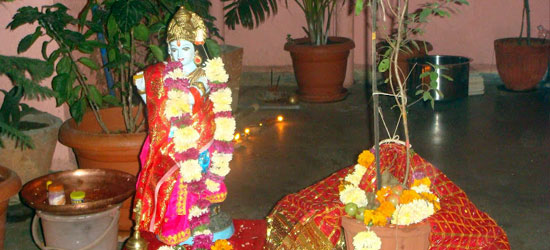 Tulsi Vivah is observed on Chilku Dwadashi, Kartik Shukla Paksha Dwadasi day. It is also observed on Utthana Ekadashi or on Kartik Purnima day.Tulsi Vivahaarambh falls on the same day as Devutthani Ekadashi. Tulsi (Ocamum sanctum), although a plant only, is as sacred to the Hindus, as the Yamuna and the Ganges. In every worship, leaves of Tulsi are essentially kept, particularly as Charan Amrit (a mixture of curd, honey, sugar, milk, water and Tulsi leaves). Tulsi plant is grown on a small platform in most of the Hindu houses. Women, after purification, pour water in it and circumambulate it. The very flavour emitted by the plant purifies the environment.
Tulsi worship commenced with the legend of God Vishnu, who wished to neutralize the power of demon Jalandhar, who was inflicting cruelty on the Gods and the saints. The cause for this power was the chastity of his wife Vrinda. Vishnu deceived her and her chastity was marred.When Vrinda discovered thes he cursed Vishnu that he would have to be born as a human being on earth, and that he will suffer the agonies of separation from his kidnapped wife (Vishnu in incarnation as Rama suffered the separation of Sita in the Ramayana), Vishnu repented his deed. The Gods consoled him. Parvati planted Amla, Malti and Tulsi plants on the ashes of Vrinda. Vishnu recognized Tulsi as the form of Vrinda; since then Tulsi is worshipped.
Tulsi worship, in the month of Kartik (Oct-Nov) by lighting a lamp on Tulsi platform, is auspicious. Tulsi, in Chhatisgarh region (Madhya Pradesh) is worshipped because of its medicinal value and also because of its relation to Lord Krishna.