Blessingsonthenet Features More Than 600 Festival, Fairs, Fast, State Festivals, Regional Festivals, Festival Recipes, Temple Festival,Festival Gallery (Audio, Video,Photo Gallery) of India.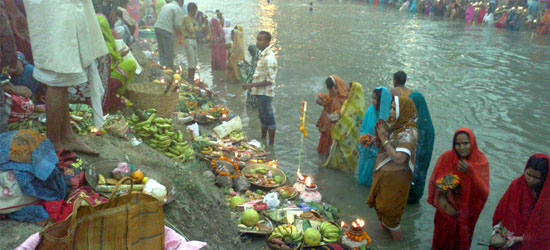 Surya Sashti is the festival dedicated to Surya Bhagawan (Sun God). Surya Sashti is celebrated on the sixth day in Shukla Paksha during the month of Bhadrapad. On this day generally the month changes. By observing a fast on this day, one is blessed with imperishable benefits. A bath in Ganges or sacred rivers and worship of Surya with red flowers of Kaner, red powder (gulal), lit lamps and in red clothes, is done. In most of the houses of Hindus, there is the tradition of offering water to the sun, after bath.
Surya Sashti fast taken in the month of Kartik on Shukl Sasti, also called Dala Chat, is undertaken after a son is born in the family. It is a three day fast.
Achla Saptmi, also called Saur Saptmi or Surya Saptami,occurs in the month of Magh in reverence to Surya God. Image of Surya is erected in the centre along with that of Shiv and Parvati, after worship, the images are immersed in water. It is said that on this day, Saanv, son of Krishna, by his wife Janvanti, had a bath in Chandrabhaga river and was awarded with the image of God Surya, floating on a lotus leaf in the river. This was installed in Konark (Kondadatey) now in the famous chariot black temple of Konark (Orissa).

The Konark Temple
A bath and worship in reverence to Sun God, on this day, imparts one freedom from diseases. The Konark temple is designed like a chariot. The chariot has 12 wheels on either side, pulled by seven horses, representing seven days of the week. The 24 wheels signify 24 Pakshas (fortnights) of 12 months.
Another legend is that once Surya, the Sun God pursued the beautiful sea maiden Chandrabhaga so relentlessly that she plunged into the sea at this point (Konark) and perished. Here at Konark temple, Surya mourns Chandrabhaga's tragic death for ever. For centuries ancient mariners, called this temple, the Black Pagoda.
The Konark Dance Festival and Fair, is held in the month of February, every year in the amphitheater at Konark, with the internationally famous Sun Temple as the back drop. Some of the best dancers in the country come to perform amidst the splendour of this ancient temple. It is performed under special illumination and set up to transform the Sun Temple, a monument of Art, into an atmosphere of fantasy. The beauty and harmony of different schools of classical dance, each epitomizing sublime devotion and perfect synchronization through centuries of total commitment to this art form, elevate even the audience to a level of spiritual ecstasy.