Blessingsonthenet Features More Than 600 Festival, Fairs, Fast, State Festivals, Regional Festivals, Festival Recipes, Temple Festival,Festival Gallery (Audio, Video,Photo Gallery) of India.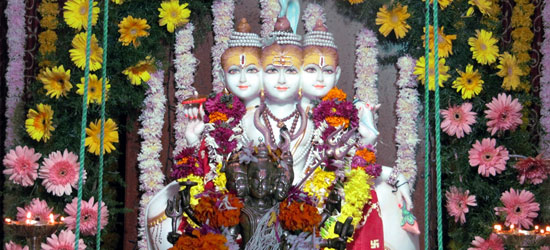 Datta Jayanti is observed to celebrate the birth of Guru Dattatreya, the Trimurti Avatar - the united and single incarnation of Brahma, Vishnu and Shiva. Dattatreya was born as the son of Atri Maharshi and Anasuya
Besides the major incarnations, there have been many other occasions, when God had deigned to be born to men of great austerity and tapas. One such incarnation is the Dattatreya form, which he assumed for the sake of Sage Atri.
Worshipped as the Trinity aspect of the almighty, the lord appeared in this particular form to fulfill the wishes of Atri and Ansuya. Sage Atri is one of the Saptarishis and derives his name from the fact that he had transcended the three gunas of matter (Sattva, Rajan and Tamas) indicating that he is a realized soul.
Dattatreya is symbolic of a Composite image of the three gods. Brahma Vishnu and Shiv.
Datta means one who has attained final liberation.Datta Jayanti pooja is a ritualistic worship of Lord Datta similar to the commonly performed ritualistic worship of Lord Vishnu (Satyanarayan).This is done by following the basic steps of Hindu rituastic worship, namely, cleaning the premises and the altar, cleansing oneself, and preparing the holy food items (prasad), etc.
After performing the worship and arati of Lord Datta, prasad is distributed to the attendants. Instead of Lord Datta's statue, "Wooden Sabots (Paduka)" and the "Oudumbar Tree" are used for the ritualistic worship.
On Datta Jayanti, devotees are advised to perform Japnam of six Malas(Rosery) ie (6 x 108 = 648 times) by chanting the Mantra, 'Om Shri Gurudev Datta'. The worship of Lord Datta resolves the problems and prevents the bad effect of the negative energy due to the unsatisfied souls of ancestors.
Datta Jayanti celebrations in Datta Temple in India :
Major celebration take place in Sri Kshetra Narsobachiwadi or Narsobawadi Narsimhasaraswati temple near Kolhapur & Sangli .
Datta Mandir Pune near Dagaduseth ganpati temple in Pune.
Sri Kshetra Gangapur, One of the most famous Dattatreya Peethas, is associated with Sri Narasimha Sarasvati Swami, an incarnation of Lord Dattatreya. It stands on the bank of the river Bhima in Afzalpur taluka in Gulbarga district of Karnataka.