Blessingsonthenet Features More Than 600 Festival, Fairs, Fast, State Festivals, Regional Festivals, Festival Recipes, Temple Festival,Festival Gallery (Audio, Video,Photo Gallery) of India.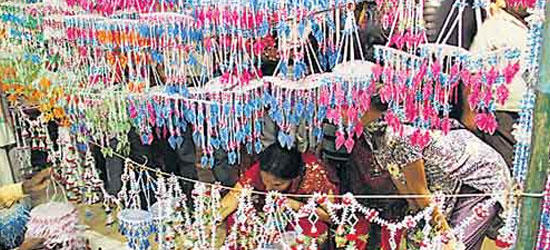 A magnificent fair is held every year at Vautha, where two rivers, the Sabarmati and the Vatrak, meet. when vautha mela is celebrated, the number of visitors may increase to an incredible 200,000. It is, in fact considered one of the largest of such fairs in Gujarat.
Like most fair sites in India, this also has both mythological and current religious associations. The Vautha Mela site is 3 square miles in area. Legends hold that Kartik Swami or Kartikeya, the son of Lord Shiva, visited the site. This is why the fair is held during Kartika Purnima, the full moon night of the month of Kartik, corresponding to November.
The site, also known as Saptasangam, is at the confluence of seven rivers. In actual fact, the great Saptarishis or Seven Rishis stayed here for a while. These and other tales, lend the site an air of sanctity, which is enhanced by the fact that there are some famous temples there as well. The most important temple is the Shiva temple of Siddhanath. The pilgrims who visit Vautha during the Fair hail from several communities and include farmers, labourers and people belonging to several castes. Although essentially a fair frequented by Hindus, even Muslims visit it in fairly large numbers. It lasts for 2 or 3 days. In the new temporary township at the fair site, visitors have a choice or several pastimes to indulge in.
However what is significant is, that this is the only major animal trading fair in Gujarat, and certainly on a par with the famous camel fair at Pushkar in Rajasthan. Here, however, the animals traded are donkeys. About 4000 donkeys are brought every year for sale, usually by Vanjara traders.
More on Vauthala Mela Gujarat