Blessingsonthenet Features More Than 600 Festival, Fairs, Fast, State Festivals, Regional Festivals, Festival Recipes, Temple Festival,Festival Gallery (Audio, Video,Photo Gallery) of India.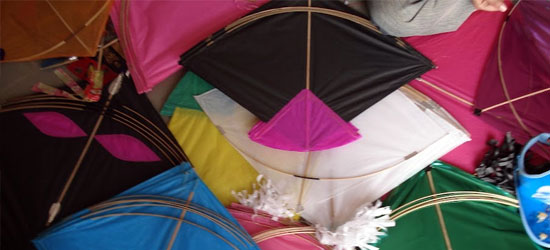 Uttarayan (known as Makar Sakranti in other parts of India) is the day when the sun starts to travel northwards marking the decline of winter. There is a special significance attached to the celebration of Makar sankranti, the day when according to the Hindu astronomy the sun enters the rashi (zodiac) of Makara (Capricorn), is celebrated as the Kite Flying Day in Gujarat.
Gujarat celebrates 2,000 festivals every year! Among these, the festival of Uttarayan is one of the grandest and stands tall. In Gujarat, Uttarayan is a holiday when every family can be met outdoors. People of all ages fly kites from dawn to dusk. Crowded rooftops, fun-loving rivalry to outdo each other in kite flying skills and delicious traditional Gujarati feast are the hallmarks of the day.The clear blue sky seems to beckon everyone, and the people surrender themselves to the joy of kite flying. And thus, the sky-since morning to evening-remains dotted with vivid splashes of colour as kites in a variety of hues, shapes and sizes dart across the azure blue. The excitement is difficult to contain with the onset of night. In the developing darkness youngsters continue their struggle for supremacy in the sky, now with the paper lanterns tied to their kite-strings. These lanterns are known as tukkal and a series of them swaying at the mild stroke of wind presents a lovely image.

Comprehending the fervour with which the festival is celebrated, Gujarat Tourism started hosting the International Kite Festival, which draws eminent kitists from many states and countries. Kite flying is now a special event in Ahmedabad held on Makarsakranti day, 14th January, the beginning of northern journey of the sun (Uttarayan) The sky is full of colorful kites flying high in the air, After dusk, the kites carry oil lamps, lighting the city in the ethereal splendour. People from all over India and the world over, come here to fly exotic kites of various designs & shapes drawing expert kites - makers and flyers. Kite flying festival is being held in important cities of Gujarat. Designer's kites of infinite variety are displayed at the venue.
Besides the primary kite flying, the participants and spectators at the festival can also enjoy the cuisine and the crafts of the state.
Makar Sankranti marks the end of a long winter with the return of the sun to the Northern Hemisphere and hence the name Uttarayan. It is celebrated all over Gujarat but the excitement runs highest at Ahmedabad, Surat (known particularly for the strong string which is made by applying glass powder on the row thread to provide it a cutting edge) Nadiad and Vadodara. To be in any one of these places during this festival is to feel the heart and pulse of Gujarat and its people.