Blessingsonthenet Features More Than 600 Festival, Fairs, Fast, State Festivals, Regional Festivals, Festival Recipes, Temple Festival,Festival Gallery (Audio, Video,Photo Gallery) of India.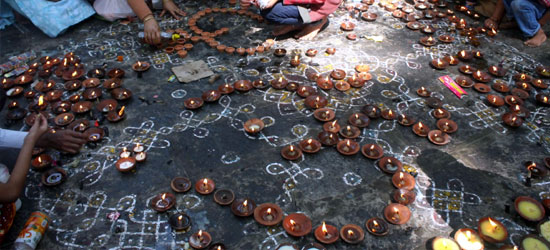 Located 18 miles north of capital Srinagar, the Kheer Bhawani shrine at Tulmula, attracts thousands of people from all over the country.The Goddess Ragnya Devi is symbolised as a sacred spring at Tula Mula village .

The kheer bhawanitemple is dedicated to the Goddess Rajnya Devi, popularly known as Kheer Bhawani. The name 'Kheer Bhawani' is derived from the fact that thousands of devotees offer milk and "Kheer" or pudding to the sacred spring, as they believe the pudding turns black to warn of impending disaster.
Mela Kheer Bhawani - the Annual Festival: The devotees of the Goddess fast and gather here on the eighth day of the full moon in the month of May/ June (The Annual Festival, held here, is a public holiday in Kashmir) when, according to belief, the Goddess changes the colour of the spring's waters, which are ascribed to different manifestations of the Goddess. Turning of the colour into shades of black is supposed to signal approaching disaster.
Be it Hindus or Muslims, devotees from all across India throng the temple during the Kheer Bhawani festival.
"Devotees from all walks, places and faiths come here to make offerings and we get to meet everyone. I appeal to everyone who comprise our Kashmiri Pandit brothers too, without whom we are incomplete. That if peace is to be restored in Kashmir, then everybody should come back home.The Kashmiri Pandits, even if they revolt against us. They have all the right to do so and also to place their thoughts before everyone," said Shabir Shah, a Muslim devotee.
Among the thousands of devotees are many Hindu Kashmiri Pandits who migrated from the state when terrorism was at its peak in the valley. Many of them have now settled in other states. However, for many of them, the annual pilgrimage to this temple is a sort of homecoming, a return to their roots.
It is at Kheer Bhawani temple that the age-old tradition of communal harmony comes to the fore front as the local Muslims set up stalls for the convenience of Kashmiri Pandits who visit the temple.
According to the legend, there were 360 springs surrounding the main spring but all of these seem to have disappeared as the land has become marshy all around.
In the last half century the pilgrimage has become the most important for Kashmiri Brahmans who come here from all over the State and even from outside. Kheer Bhawani is considered to be the Presiding Deity of most of the Kashmiri Brahmans.
More on Kheer Bhawani Mela