Blessingsonthenet Features More Than 600 Festival, Fairs, Fast, State Festivals, Regional Festivals, Festival Recipes, Temple Festival,Festival Gallery (Audio, Video,Photo Gallery) of India.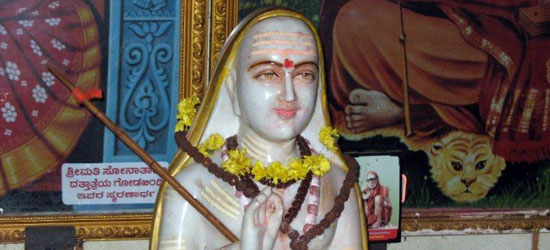 Shankara Jayanti is the birthday of Jagadguru Shankaracharya. The fifth day(panchami) of the waxing moon(shukl paksh) of Baisakh is the birtday of the great religious philosopher Shakaracharya. The unique, ineffable, absolute reality of Brahma was Shankara's theme.Shankara was born in Kalady, a small village in Kerala, India, to a Nambuthiri brahmin couple, Shivaguru and Aryamba. The traditional sources of his life are from the Shankara Vijayams, which are essentially hagiographies., who mastered Brahmopadesa at the age of five, became a Sanyasi (ascetic) at eight. He was a disciple of Govinda Bhagavatpada.
Shankara wrote masterly commentaries on the Brahmasutras of Vyasa, eleven of the classical Upanisads and on the Bhagvad Gita (Gita Bhasya).
In the of short life span of 32 years, he achieved so much powerfully, purposeful and indeed miraculously that centuries after his advent his birthday is celebrated with effective teaching of his doctrine.
Shankara Jayanti is celebrated with utmost fervour in Shankara maths all over India. Sringeri Sharda Peetham in Karnataka and Kalady Shankara Temple in Kerala ,Shankara Math in Hyderabad , Kanchi kamakoti peetha in Kanchipuram are some place where the Shankara jayanti celebration attract a large number of devotees.
More on Sri Shankaracharya Jayanti