Blessingsonthenet Features More Than 600 Festival, Fairs, Fast, State Festivals, Regional Festivals, Festival Recipes, Temple Festival,Festival Gallery (Audio, Video,Photo Gallery) of India.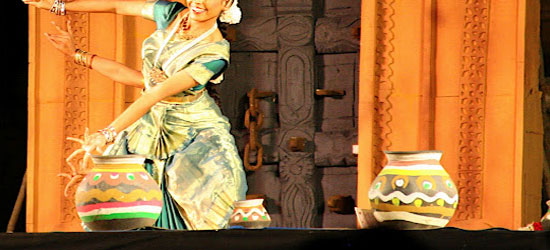 The Pattadakal Dance Festival is organized by the Government of Karnataka in the month of January. The venue of the festival is the village of Pattadakal, situated at a distance of approximately 20 km from Badami city in Karnataka. Located on the left bank of the Malaprabha River, the village has quite a history attached to it. It was once the second capital of the Chalukyan kings. And even today, this village has the distinction of being declared a World Heritage Site by UNESCO.

Pattadakal is quite famous for a number of temples, most of them dedicated to Lord Shiva. However, out of these numerous temples, around ten temples hold more significance and boast of both North as well as South Indian architecture. The Dance Festival of Pattadakal is intended to serve as a celebration of these stunning temples only.

Distinguished dancers from all over Karnataka, infact the whole country, come to participate in this festival. Apart from these dances, another major attraction of the Pattadakal Dance Festival is the craft mela organized here
More on Pattadakal Dance Festival