Blessingsonthenet Features More Than 600 Festival, Fairs, Fast, State Festivals, Regional Festivals, Festival Recipes, Temple Festival,Festival Gallery (Audio, Video,Photo Gallery) of India.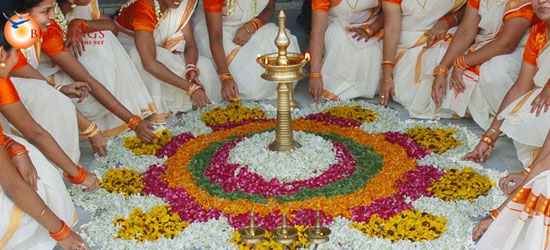 Onam festival of Kerala is celebrated with extreme enthusiasm and zeal throughout the state irrespective of caste, creed and community. Onam is celebrated in order to welcome the spirit of King Mahabali who is said to visit the place at the time of Onam. Onam festival is marked with wonderful celebrations including intricate rituals, grand feast, songs, dance, games and fairs. It is also known as the harvest festival of the state and is celebrated in the beginning of the first month of Malayalam Calendar (Kolla Varsham) called 'Chingam'.
Onam celebration commences ten days ahead on Attam and culminates on Thiruvonam. The festival marks the end of monsoon and heralds the harvest season. People adorn their homes with colourful flower carpets, which increase in size as the festival draws to an end, wear new clothes and prepare a sumptuous lunch for Mahabali.

A major attraction of the Onam celebrations in Kerala are the famed snake boat races Vallam Kalli held on the picturesque backwaters.