Blessingsonthenet Features More Than 600 Festival, Fairs, Fast, State Festivals, Regional Festivals, Festival Recipes, Temple Festival,Festival Gallery (Audio, Video,Photo Gallery) of India.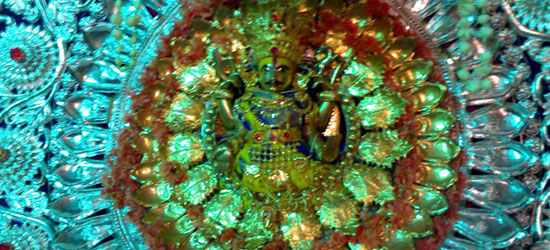 Sheetal Shashti, also spelt as Sital Sashti or Shital Sasthi, is the vow observed on the sixth day of the Shukla Paksha in the Jyeshta month. This festival is especially celebrated in Brahmin communities of Orissa. It is the marriage ceremony of Lord Shiva and Goddess Parvati.
To beget a child this vow or Sheetala Sashti is observed on the sixth day of the Shukla Paksha of the Magha month. After daily ablutions, Sheetla Devi is worshipped in 16 steps known as Shodhashopchar. Cold eatables are offered to the Goddess and stale food is eaten after this. After food religious rites are performed to appease the Goddess.

The story goes this way- A Brahmin woman had seven male children. On worship of Sheetla Devi all of them got male children. One day this woman forgot to observe this vow and the bathed by hot water. Then she ate hot food. As a result her seven children and husband instantly died. Seeing this she turned frantic and loosing control over her senses, She ran towards the forest. There she saw an old lady in flames. This lady ordered this Brahmin woman to get her some curd. Because of the curd Sheetla Devi (old woman's) fire was extinguished and was complacent. According to Sheetla Devi orders that Brahman woman came home and applied that curd to her husband and her seven children. As a result all of them were rejuvenated.