Blessingsonthenet Features More Than 600 Festival, Fairs, Fast, State Festivals, Regional Festivals, Festival Recipes, Temple Festival,Festival Gallery (Audio, Video,Photo Gallery) of India.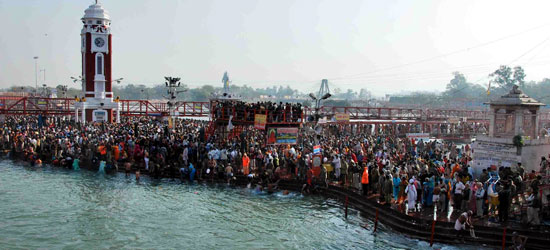 The Most Important Hindu Spiritual Gathering takes place once every 3 years, in four major Hindu pilgrim centers of India Prayag (near the city of Allahabad, in the state of Uttar Pradesh) at the confluence of three rivers Ganga (Ganges), Yamuna and Saraswati, Haridwar (in the state of Uttar Pradesh) where the river Ganga enters the plains from Himalayas, Ujjain (in Madhya Pradesh), on the banks of Ksipra river and Nasik (in Maharashtra) on the banks of Godavari River. Each twelve-year cycle includes the Maha (great) Kumbha Mela at Prayag, attended by millions of people, making it the largest pilgrimage gathering around the world. The largest and most famous one occurs in Allahabad once every 12 years. This is called the Maha Kumba.

Hundreds of thousands of yogis, sadhus and pilgrims come to take a holy dip in the Ganges during this important Hindu spiritual gathering. Legend has it that before the universe took shape, the gods and Demons churned the waters--as a result of which--from the ocean arose Dhanvantari carrying in his hands a kumbha (pot) of nectar. As the gods and demons struggled for possession of this precious liquid, drops fell at 12 places in the world. Four of these, Allahabad, Nasik, Haridwar and Ujjain are in India and this fair (mela) is held in each of these places in a twelve year rotating cycle.