Blessingsonthenet Features More Than 600 Festival, Fairs, Fast, State Festivals, Regional Festivals, Festival Recipes, Temple Festival,Festival Gallery (Audio, Video,Photo Gallery) of India.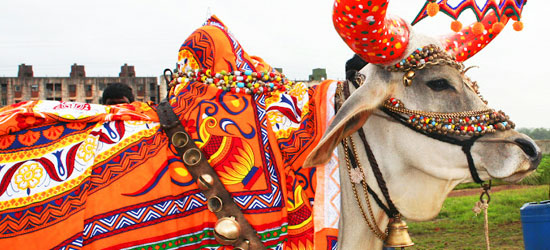 India is probably the only country in the world, where the festivals are celebrated to pay respect to the animals. Bali Pola is one such festival, when farmers pay respect to Bullocks. Bali Pola is a very popular festival in the rural parts of India.
India is a country with focus on Agriculture as main source of income. Economic conditions in India largely depend on Agricultural income. Although some parts of India now use mechanical equipment for farming, in many parts bullocks are used for faarming. Hence farmers celebrate this festival of Pola aslo known as 'Bail Pola' .
Pola is celebrated on the new moon day (Pithori Amavasya) of Shravan month (usually falls in August). On the previous evening farmers remove the 'vesan (rope put through the nostrils of bull), apply the paste of turmeric powder prepared in ground nut oil, to the shoulder of the bull. Give a hot water bath. Give khichadi of bajari to eat.
On the day of Pola, farmers take their bullocks to the river & clean them thoroughly, worship their bullocks. Decorate them by painting their horns, putting ornaments in the horns. Decorative shawls are put on their body. Flower garlands are put around the neck of bullocks. Then in the evening, all the bullocks are taken through the streets in a joyous procession with the farmers playing drums, bugles, lezim (a typical Indian musical instrument) etc...
On this evening in the rural parts of India, fairs are conducted, wherein some competitions & outdoor games like volleyball, wrestling, kabaddi, kho-kho etc...
In the urban parts of India, many people bring wooden or earthen bullocks & worship them & celebrate this festival.
More on Bail Pola Festival