Blessingsonthenet Features More Than 600 Festival, Fairs, Fast, State Festivals, Regional Festivals, Festival Recipes, Temple Festival,Festival Gallery (Audio, Video,Photo Gallery) of India.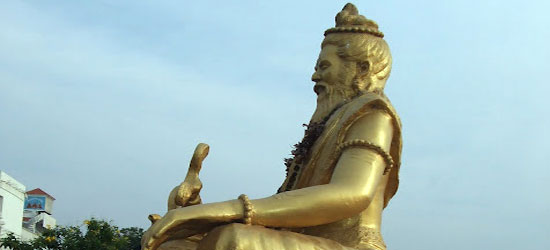 Guru Purnima day the full moon day in Ashadh is of great importance in relation to a guru and disciple. On this day a disciple, expresses his gratitude to his Guru and makes some offerings. This is the day that strengthens the teacher student bond.Tradition of celebrating this day is carried on since ancient days when students used to have education in Gurukul.
Whatever the old poets and writers have written in the past, holds good even today. Kabir wrote, "Guru is a washer-man, his disciple a cloth, soap the creator, washed on the stone of knowledge, this gives out utmost light brightness." This couplet of Kabir throws light on the relation of a guru (master) to a disciple; Who washes away the dirt (bad element) in the mind of the disciple and thus makes him clean, pure and pious. He expects from almighty that by his blessings, he should enlighten his inner conscience.
India is an ancient and traditional country. Here, Guru is worshipped before God. On Guru Purnima, teacher is given respect and their blessing are taken by offering them Guru Dakshina.
On Guru Purnima, birthday of Maharishsi Vyas is celebrated in whole with full excitement. It is considered auspicious to worship Guru and have their blessings on this day. By the blessings of Guru, a person leads his life on a spiritual path.
The relationship between Master and disciple is purely a spiritual connection which is not effected by their ages. This relationship of devotion is based on maturity and manhood. Student should always have a feeling that by the guidance of master, he will have a spiritual growth and teacher should think to do the mental welfare of his disciple.
Guru Puja is a day of bowing to the spiritual connection between teacher and student. If teacher would not have told about the significance of becoming a human and the made them have the knowledge of soul, then no one would have had the vision of soul.
Guru Purnima Importance
Guru is given a higher position then God, because of his qualities and qualification. Guru is called Brahma. Teacher gives a new birth to his students. Guru is true Mahadev because he forgives all flaws done by his disciple.
In India, Guru is given spiritual, religious and political significance. During the times of trouble, teachers have shown a new path to this nation. They don't just a teacher but, they tell a person that how to come out from any kind of problem and danger. Guru takes an individual to light from darkness. In simple words, he can be called the mass of knowledge