Blessingsonthenet Features More Than 600 Festival, Fairs, Fast, State Festivals, Regional Festivals, Festival Recipes, Temple Festival,Festival Gallery (Audio, Video,Photo Gallery) of India.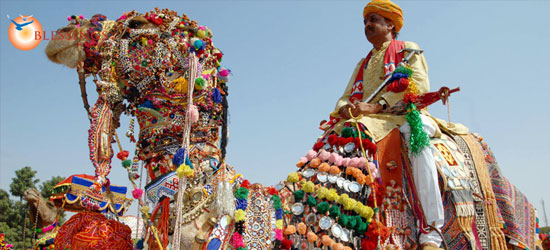 The Camel Festival is organized in the month of January every year by the Department of Tourism, Art & Culture, Rajasthan. It is held in the city of Bikaner, with the magnificent Junagarh Fort forming as its backdrop. The festival is organized to underline the value of camel, the indispensable ship of the desert. Bikaner Camel Festival commences with a splendid as well as colorful procession of camels, festooned and ornamented. The procession then moves ahead to the Polo grounds, where it finally concludes.

The grace and charm of the brilliantly ornamented camels leave the onlookers mesmerized. After the end of the procession, the festival carries on with a number of other activities like tug-of-war contest, camel dance and acrobatics, etc. In the camel dance, you will see camels dancing perfectly to the command of their trainers, flaunting an incredible footwork. With their bridles, ornamented necks and jingling anklets, the camels form amazing shadows on the ground and leave the audience spellbound.
Tourists from far and wide come to the Camel Festival of Bikaner to see the camels in all their revelry. The evenings liven up with the various folk shows by the performers. These performers consist of both the renowned artistes of Rajasthan as well as the local folk artists. Some of the best performances comprise those of the rapturous dancers swirling their skirts with effortless ease and the breathtaking fire dancers. Also, make sure that you do not miss the glittering fireworks concluding the evenings.
The Camel festival starts off with a magnificent procession of bedecked camels. It is a colourful spectacle of beautifully decorated camels that fascinates the onlookers with their charm and grace. Several competitions are held, marked with typical Rajasthani colour, joyous music and lilting rhythms and gay festivities