Blessingsonthenet Features More Than 600 Festival, Fairs, Fast, State Festivals, Regional Festivals, Festival Recipes, Temple Festival,Festival Gallery (Audio, Video,Photo Gallery) of India.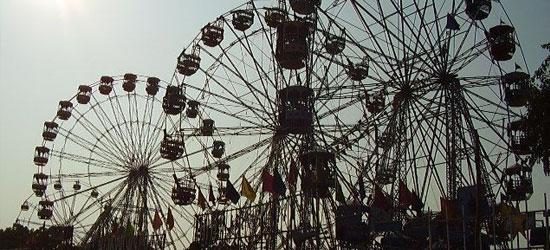 Pushkar fair or Pushkar mela is held at Pushkar town, 11 km from Ajmer in Rajasthan for twelve days annually. This cultural and trade cum religious fair is an attractive and lively spectacle with Rajasthani men and women in their colourful traditional attire, saffron-robed and ash smeared Sadhus (holy men) and thousands of bulls, cows, sheep, goats, horses and camels in richly decorated saddles. Perhaps the largest cattle fair in the world, it attracts more than one lakh people, and from all over Rajasthan as well as tourists from different parts of India and abroad.
It is the world's largest Camel Fair.Pushkar has the world's only temple for Lord Brahma.Pushkar has the world famous Sarovar with 52 Ghats surrounding it.Pushkar offers around 400 temples to see.Pushkar Fair is all encapsulated with numerous cultural activities.Ethnic shopping items from all over the state are on sale during fair.
It's a rare combination of religious fervor and cultural vibrancy in Rajasthan.One of the most interesting and attractive feature of the fair is the opportunity to meet and see numerous different cultural folks.