Blessingsonthenet Features More Than 600 Festival, Fairs, Fast, State Festivals, Regional Festivals, Festival Recipes, Temple Festival,Festival Gallery (Audio, Video,Photo Gallery) of India.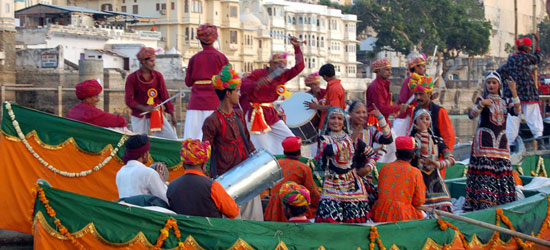 Gangaur is a very famous festival of rajasthan and it is specially celebrated in jaipur and udaipur . Gangaur is one of the most popular festivals of Rajasthan. The manifestation of Goddess Parvati, Gauri is worshipped during this festival. The womenfolk celebrate this festival with great fervor and devotion. On this day the women pray to Goddess Gauri for the well-being of their husbands .The celebrations at Bikaner, Jodhpur, Nathdwara and Jaisalmer are full of pomp and are a must-see.

Activities
At an auspicious hour in the afternoon, a procession is taken out to a garden, tank or a well with the images of Isar and Gauri, placed on the heads of married women. Songs are sung about the departure of Gauri to her husband's house. The procession comes back after offering water to the image of Gauri, which faces backwards on the first two days. On the final day, she faces in the same direction as Isar and the procession concludes with the consignment of all the images in the waters of a tank or a well. The women bid farewell to Gauri and turn their steps homewards with tears in their eyes and the Festival comes to an end.

History
Parvati or gauri is the consort of Shiva, the destroyer. The festival is held in her honour as she is the symbol of virtue and fidelity and as such is the mythological role model of married women.
Gangaur is the most important local festival in Rajasthan. It is believed that if unmarried girls observe the rituals of this festival they will get married to the spouses of their choice and married women observe the same for the happiness and long life of their husbands. The celebrations in Jaipur and Udaipur have a unique charm and attraction.
The festivities begin almost a fortnight before the actual day. Girls worship the goddess throughout the preceding fortnight. Colorful images of Gauri are taken out in procession accompanied by the town band. Thousands of people from the countryside come to take part in the procession of the image from village to village.
Another unique thing about this festival is that on this occasion, tribal men and women have an opportunity to meet and interact freely and during this time, they select partners and marry by eloping.